Summary:
Jog-a-thons are a specific type of pledge campaign PTAs and PTOs can run to raise money for their school and community. Participants sign people up to pledge donations, then jog along a course set up for the event.
FutureFund has tools that make it easier to plan or launch your Jog-a-thons. Use the campaign management screen to make pledges tax deductible, add a video to your campaign, and get a shareable link you can use to register participants.
Participants in your Jog-a-thon will get a different link to share with potential donors once they sign up. You can use FutureFund's reporting tools to track the number of pledges each participant in the Jog-a-thon collects, and generate reports to summarize your campaign's success.
Jog-a-thons make a popular way to run a pledge campaign, since they're easy to participate in and require less setup than longer races. We built FutureFund with plenty of tools that can make running your Jog-a-thon more efficient, so we're here to show you each step along the road (or sidewalk, or pathway) to success!
Step 1: Create Your Campaign in FutureFund
Once you've made your FutureFund account, you'll log in and navigate to the tab on the left side of your screen marked "Store":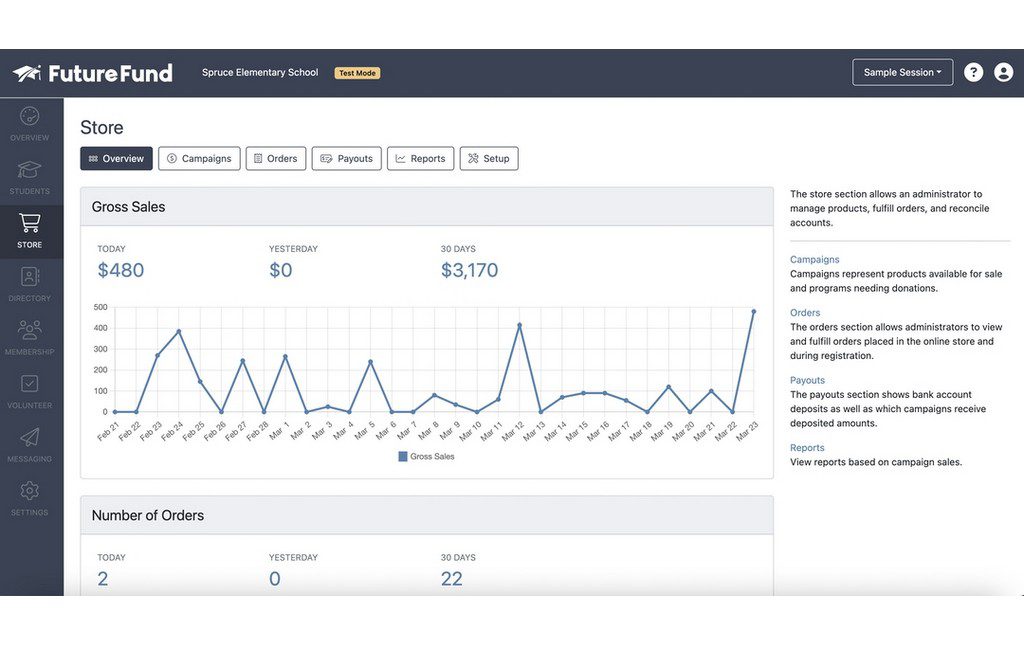 An overview will come up with information on all the campaigns your organization is currently running. Go to the "Campaigns" tab to see them all listed, and click the button marked 'Create Campaign" in the top-right.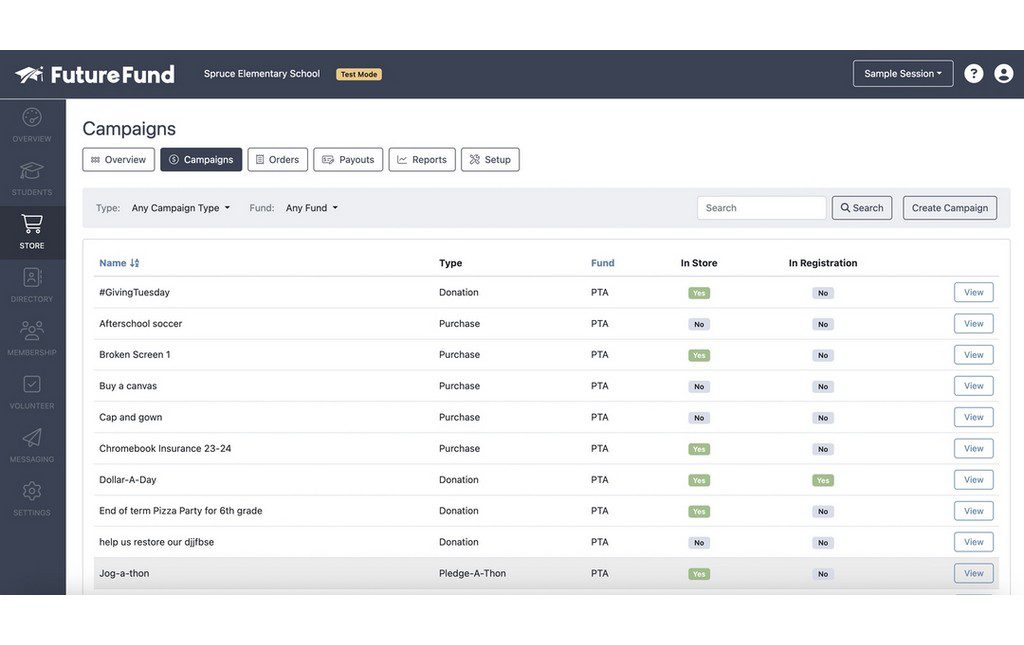 Name your campaign "Jog-a-thon" or something similar, and use the description field to explain the concept: students will sign up friends, family, and community members to sponsor them as they jog in the event.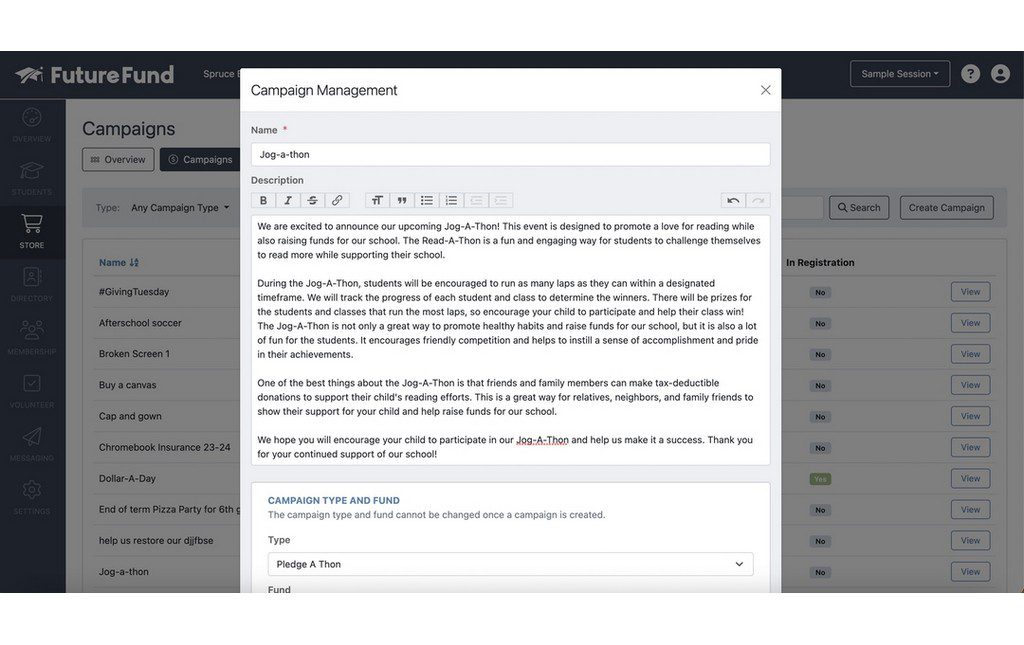 You can also set donation amounts here in the "Pledge Options" fields, and write an email template that participants can send out to recruit donors once they've registered to jog. Click "Create Campaign" when you're all finished.
Step 2: Edit Your Campaign Details
Your Jog-a-thon campaign has been created now, but it still isn't up and running just yet. On the "Campaigns" screen, find your Jog-a-thon and click the "View" button to the right of it. This will take you to the dashboard for the Jog-a-thon itself.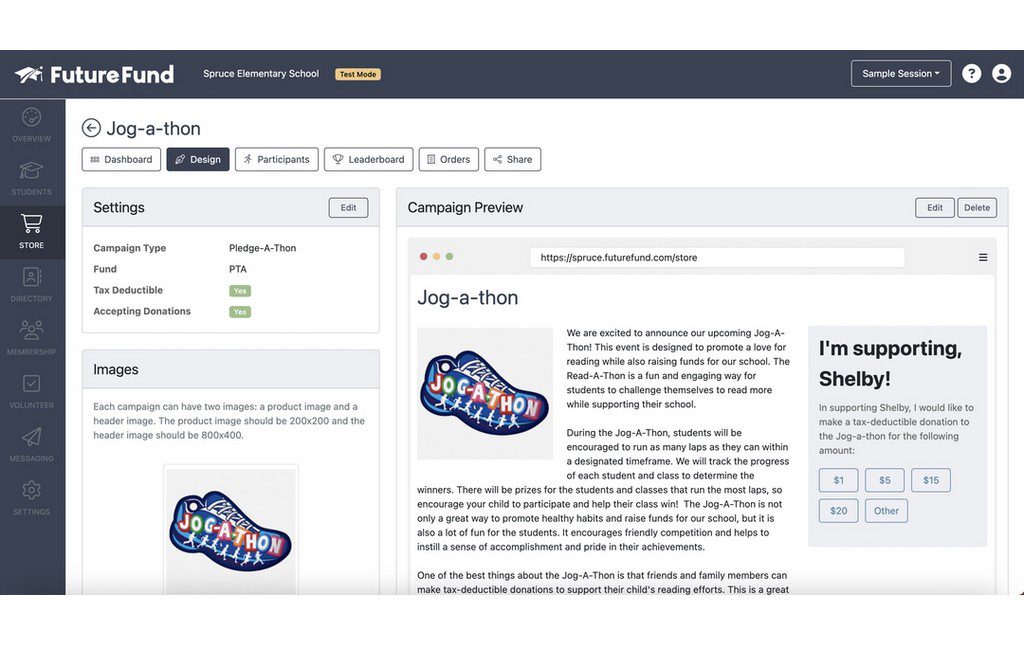 Click the "Design" tab and you'll see several fields—"Settings", "Images", "Campaign Preview", and "Attachments". Here's how each one works: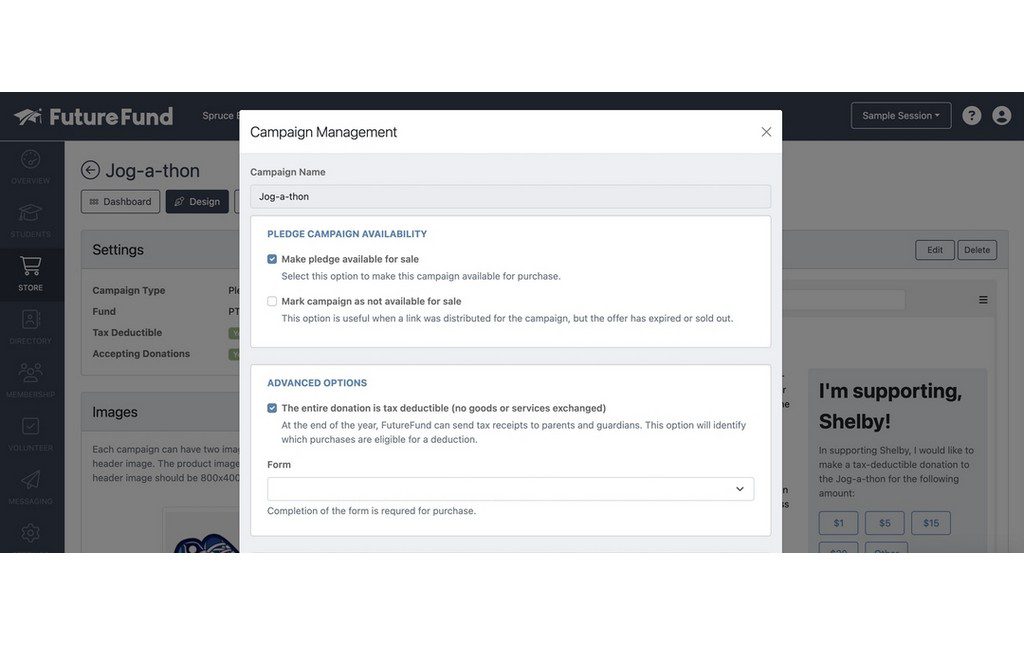 Settings
Clicking the "Edit" button in this section will bring up another Campaign Manager window. You'll see the following fields:
Pledge Campaign Availability: tick the box marked "Make pledge available for sale" to launch your campaign. Tick the box marked "Mark campaign as not available for sale" if links have been shared for the campaign but it is no longer accepting donations.
Advanced Options: this gives you an option to make all donations to your Jog-a-thon tax deductible. There's also an option to require participants to fill out forms (like permission slips or waivers) when signing up.
Video: use this field to upload a video from YouTube or Vimeo. This could be a promotional video for the Jog-a-thon, or instructions and best practices for participants who want to sign up as many donors as possible.
Image
This is where you'll upload visuals for the campaign page once it's live on your PTA or PTO's online store. The product image is a smaller image (200 x 200 pixels) that serves as an icon to represent the Jog-a-thon. It should be simple but colorful and eye-catching.
The header image should be 800 x 400 pixels, so there's a bit more room for information here. We suggest a banner-style image that has the title and important dates of your Jog-a-thon on it.
Campaign Preview
This part of the Design screen shows you what your Jog-a-thon will look like once it's been made public on your school's online store. Clicking the "Edit" button here will take you back to the Campaign Manager screen you used to create the Jog-a-thon (in case you want to edit the description or donation amounts again).
Step 3: Promote & Share
Once you've approved the look and settings for your Jog-a-thon and made it live online, you need to sign up participants. In addition to announcing the event at your school (via the school paper, announcements, print materials, etc.), you should also use FutureFund to create a shareable link. Do this by clicking the "Share" tab for your Jog-a-thon.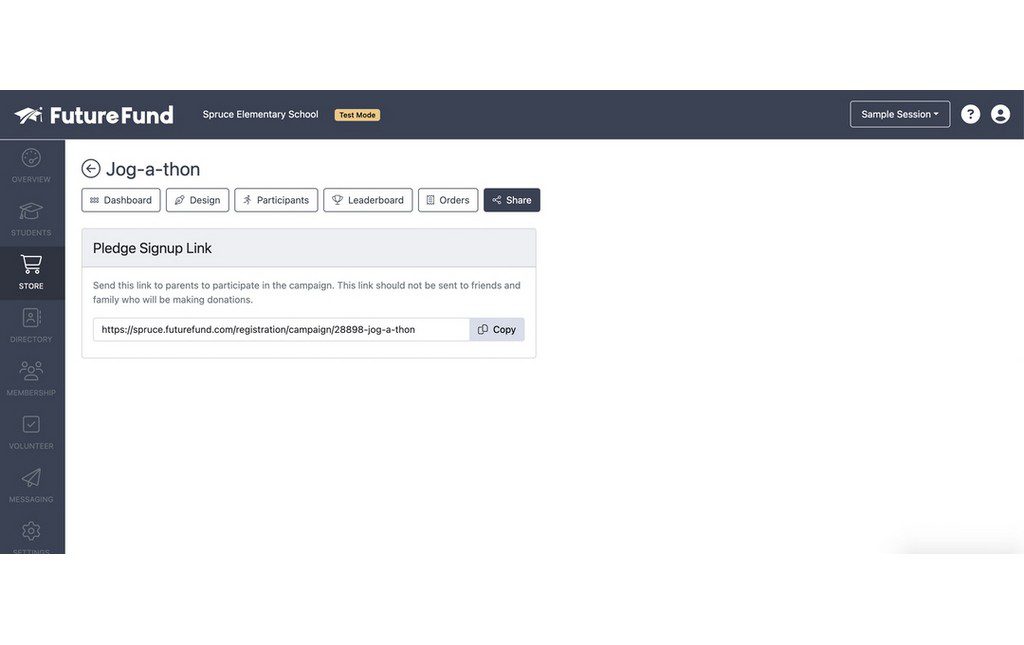 Copy the link above, then paste it into emails or social media posts and messages to register participants. This is not the link your joggers will use to collect donations—each participant who registers will get their own link to share with potential donors.
Step 4: Monitor Your Progress
As donations for each participant in your Jog-a-thon start to roll in, you'll be able to track them by going to the "Participants" tab.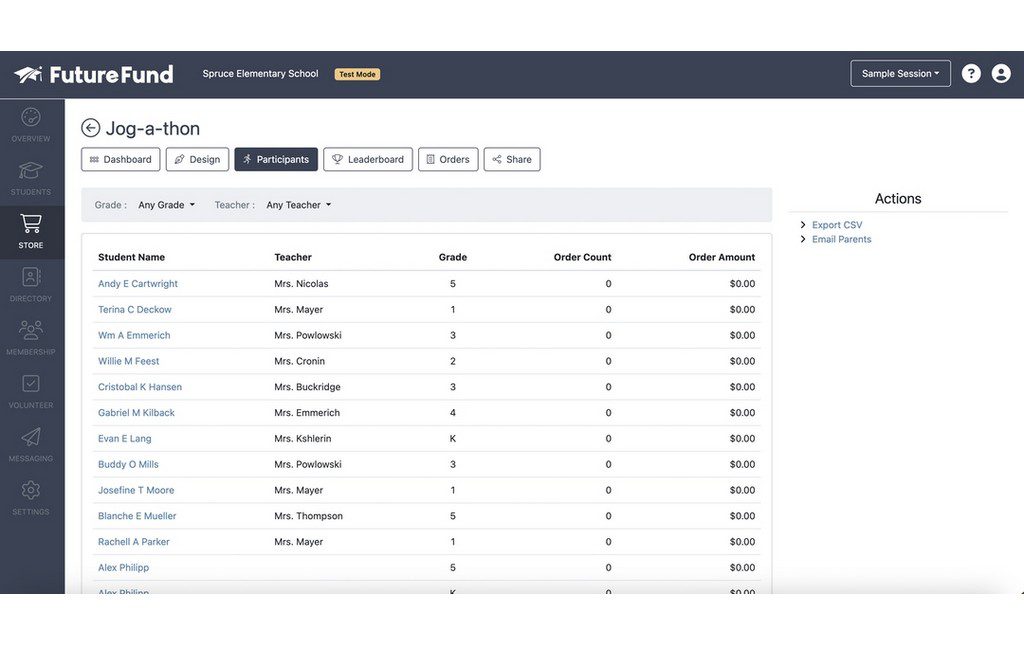 Here, you'll see the name of each student taking part in the fundraiser, along with their homeroom teacher and grade, plus the number of pledges they've signed up and the total amount of money they've raised.
Step 5: Evaluate Your Success
When your campaign ends, FutureFund can generate reports to help you analyze trends and improve future Jog-a-thons.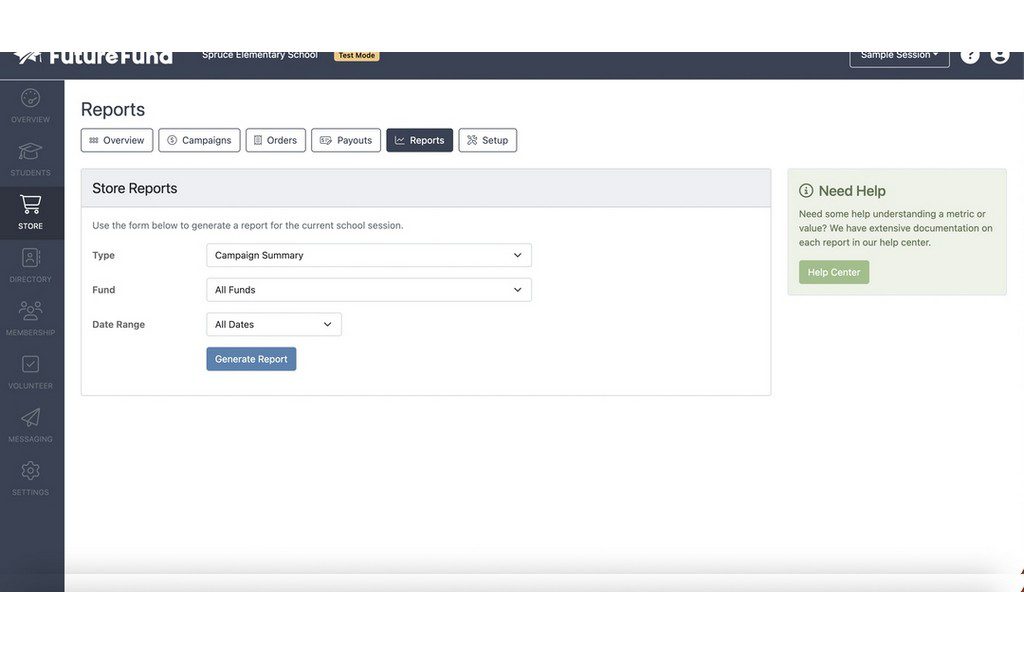 You can also use these reports to help with your PTA or PTO's budgeting and stay compliant when it's time to file your taxes. Just go back to the "Store" page and visit the "Reports" tab. You'll be able to generate a variety of reports for different funds and date ranges.
Take Your Jog-a-thon Further with FutureFund
Running a Jog-a-thon is easy when you use FutureFund to register participants, track donations, and create reports to help with your bookkeeping. Try a free demo of FutureFund here to experience its features for yourself and find out how it can help your upcoming fundraiser succeed.