PTAs, PTOs, and volunteers across the country power their fundraising campaigns with FutureFund. 100% of all funds raised go directly to your school!

See how FutureFund works or book a demo to see how it can work for you.
Summary of Key Points:
Fundraising campaigns allow your PTA or PTO to support your school and community by providing essential funding for educational equipment or extracurricular programs and activities.
Every fundraising campaign should have several steps: planning & preparing, promotion & raising awareness, collection & tracking, and reporting & disbursing.
PTAs and PTOs must also be aware of the various laws and regulations that govern their fundraising campaigns. Using the right tools (like Future Fund's online platform) can help you streamline your campaign while remaining compliant with these rules.
Successful fundraising campaigns directly impact your PTA or PTO's ability to support your school and community—so it's critical to plan and execute them carefully. Your fundraising campaigns provide essential funding for programs, events, and initiatives that benefit students, teachers, and their families.
Funds raised through these campaigns can also be used for:
Purchasing educational materials
Financing extracurricular activities
Providing teaching resources
At Future Fund, we've helped countless PTAs and PTOs improve their fundraising campaigns with our powerful and user-friendly platform—so we know how to set you up for success. Below, we'll walk you through what defines a fundraising campaign, along with the essential building blocks for creating successful campaigns and the tools you can use to enhance your efforts.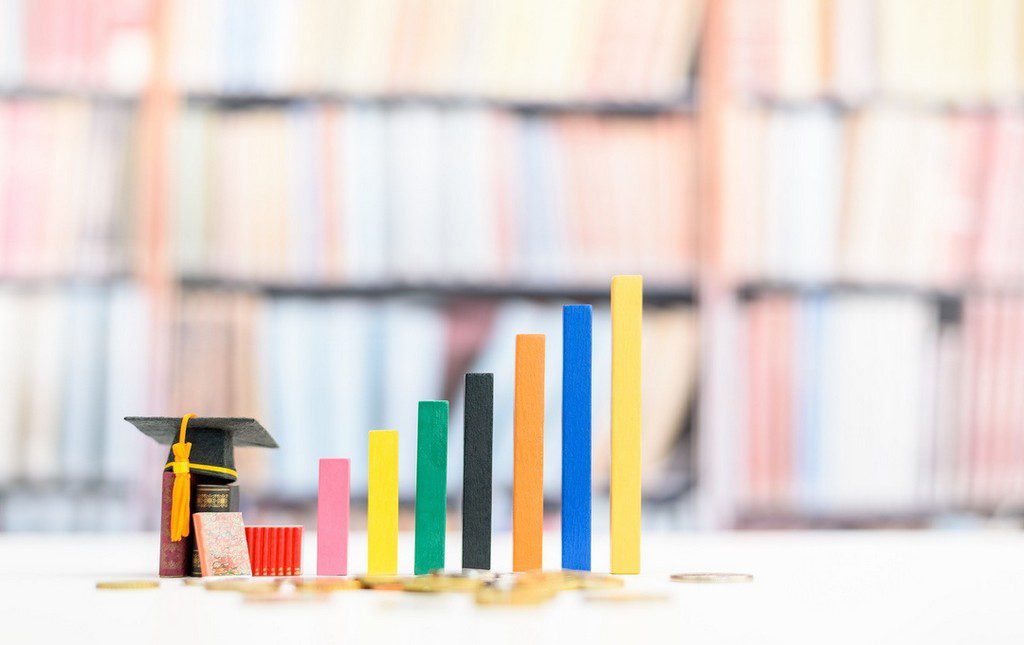 Via Adobe Stock.
What Is a Fundraising Campaign?
The goal of a fundraising campaign is to raise money for specific programs, initiatives, or events that benefit the school and its community. The simplest kind of fundraiser is usually a donation campaign—where students, their families, and other members of the community make donations during a specific time period. Donation campaigns often have a unifying theme or cause to highlight their goals and encourage participation.
Example Themes for Donation Campaigns
Teacher Appreciation Fund
Dollar-A-Day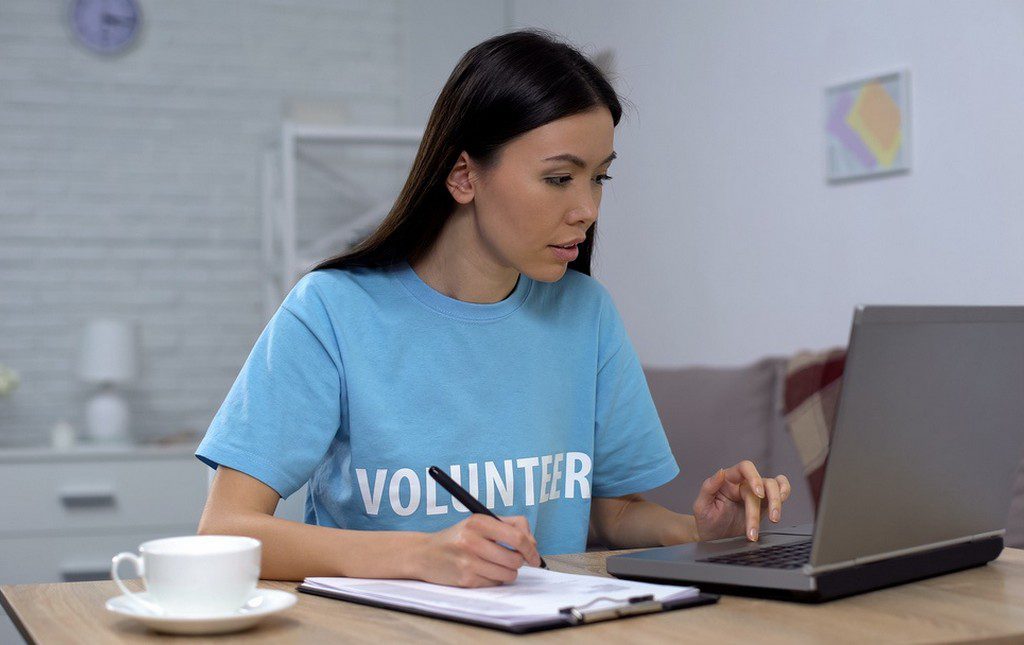 Via Adobe Stock.
How to Set Up Your Fundraising Campaign with Future Fund
Successful fundraisers need careful planning, effective promotion, a secure way to collect donations, and an accurate way to report on the success of the campaign afterwards. Below, we'll walk you through how to create a simple campaign that meets this criteria in the Future Fund platform.
Creating Your Campaign
Open up your Future Fund account, then click the "Store" tab on the left side of the screen. You'll see a screen that will display key insights about all your campaigns.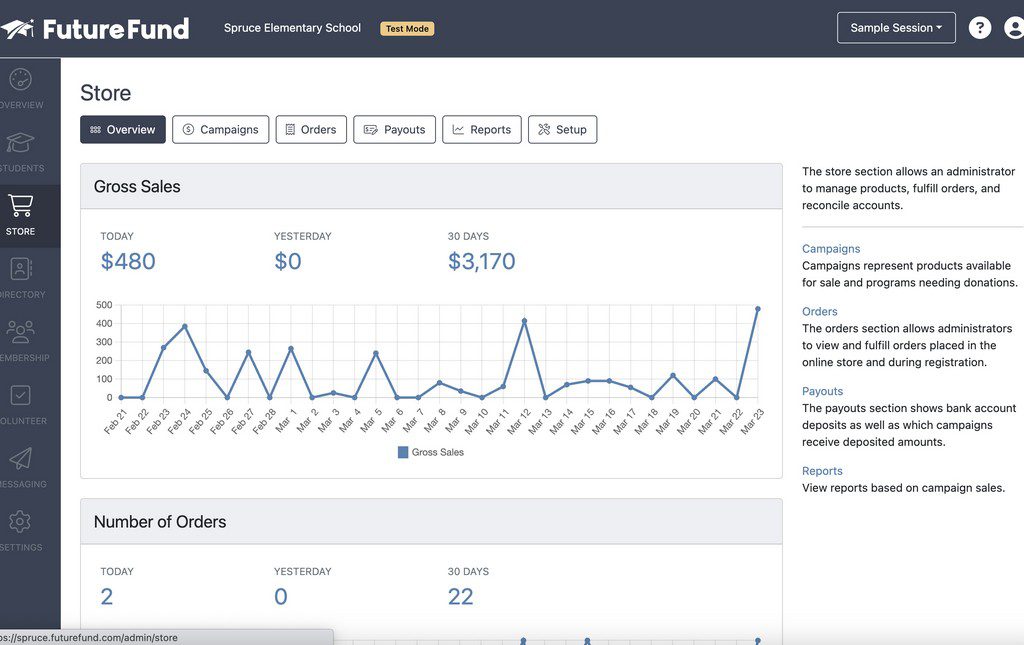 Click the "Campaigns" tab near the top of the screen. Then click "Create Campaign" at the top right.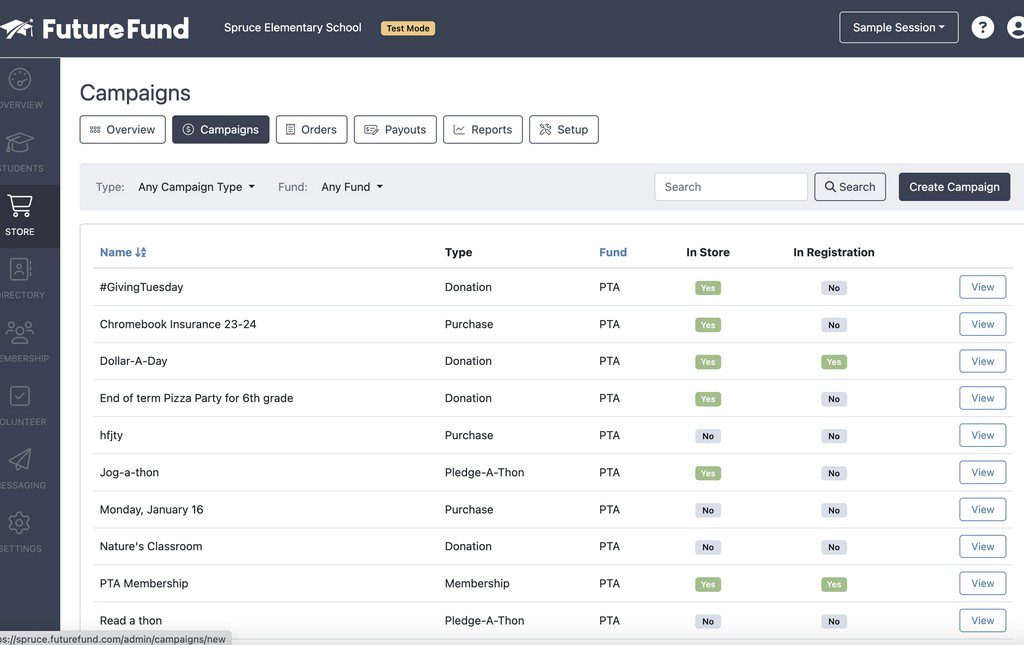 You should now see the following screen: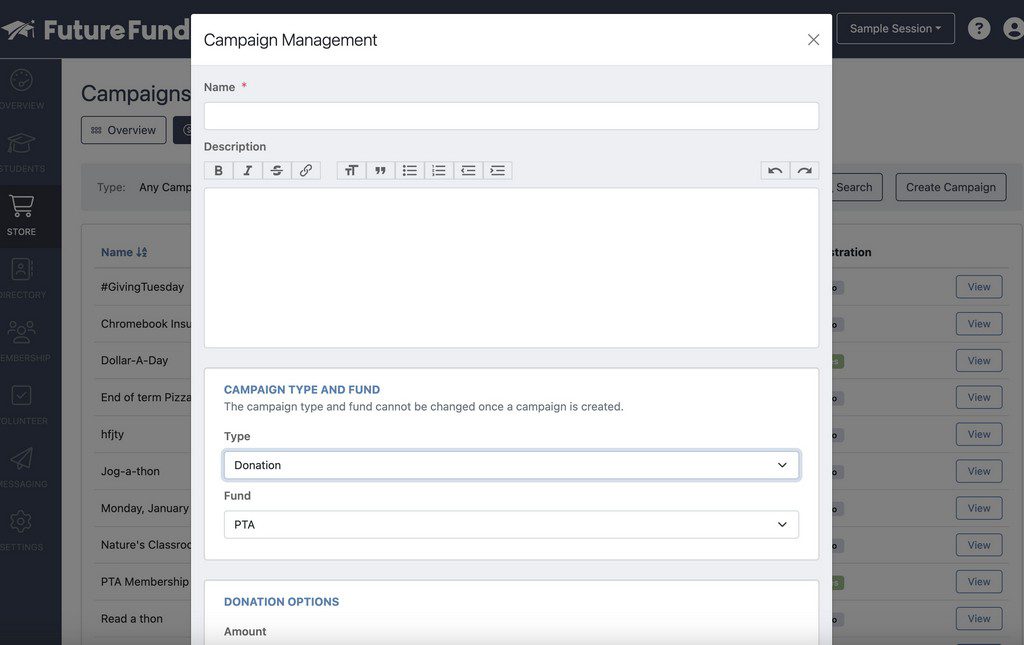 Once you've named your campaign and written a snappy description, open the drop-down menu under "Type" and choose "Donation" (not "Fundraiser"). Then, choose the account where funds raised will be collected from the "Fund" menu—for example, "PTA".
Under "Donation Options", you'll see a list of fields with zeros in them. Fill out each of these to create a tiered list of donation options—for example, "$5," "$15", "$30", "$50", "$100", etc.
Once you've filled all of those fields out, click "Create Campaign". The window will close and you'll see your campaign on the "Campaigns" page.
Editing Your Campaign
Now it's time to edit your campaign's details. Click the "View" button next to your campaign to see its dashboard, then click the "Design" button near the top of the page. You'll see a screen that looks like this: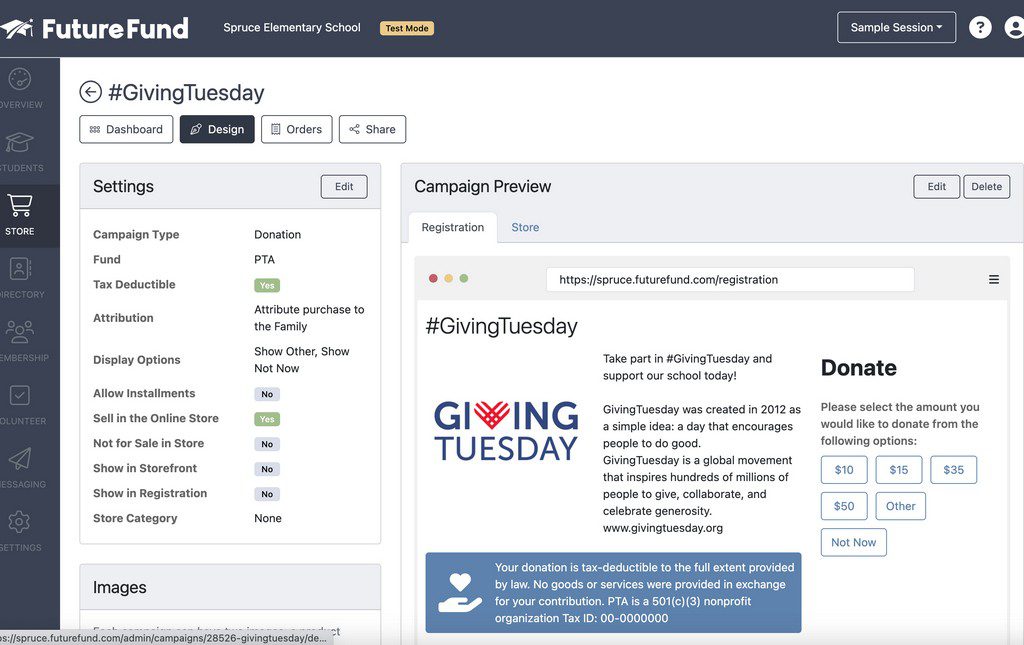 On this screen, you'll be able to upload images for your campaign and preview how it will look to visitors. You can also edit the details of your campaign by clicking the "Edit" button in the "Settings" box.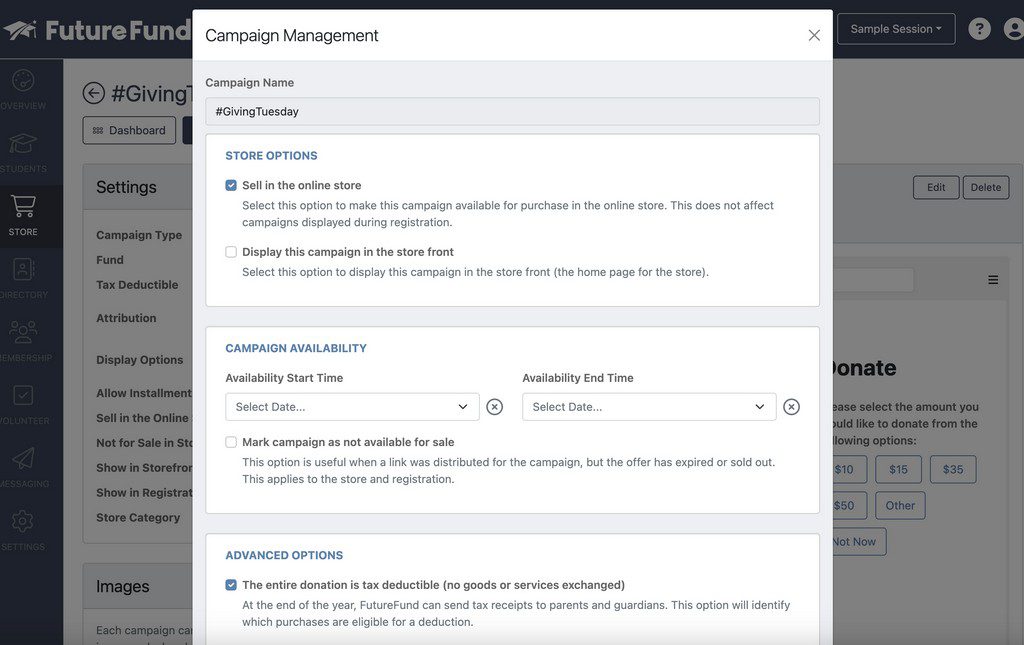 Tick the box that says "Sell in the online store" to make your campaign live. If you want to feature it on the front page, check "Display this campaign in the store front".
Next, choose the start and end time for your event under "Campaign Availability". Make sure the box underneath remains blank so that users will be able to make donations during this window.
Finally, go through the "Advanced Options" section to do things like:
Make your campaign tax deductible
Attribute purchases (to Families, Students, Teachers, or Parents)
Upload forms that users need to fill out in order to participate (like waivers or permission slips for fundraisers that take place during off-campus field trips)
The last two sections on this screen enable or disable payments by installment, and allow you to link your campaign to a video via YouTube or Vimeo. When you've finished, click "Update Campaign" to save your changes.
Promoting & Monitoring Your Fundraiser Campaign
Now that your campaign is up and running, you can use Future Fund to raise awareness about it and track its success. Click the "Share" tab to get a link and a QR code that directs visitors to your fundraising page on your school's online store:
Share these via social media or through Future Fund's built-in email communication tools to increase traffic to your page during the campaign. Any donations made will come up when you click the "Orders" tab: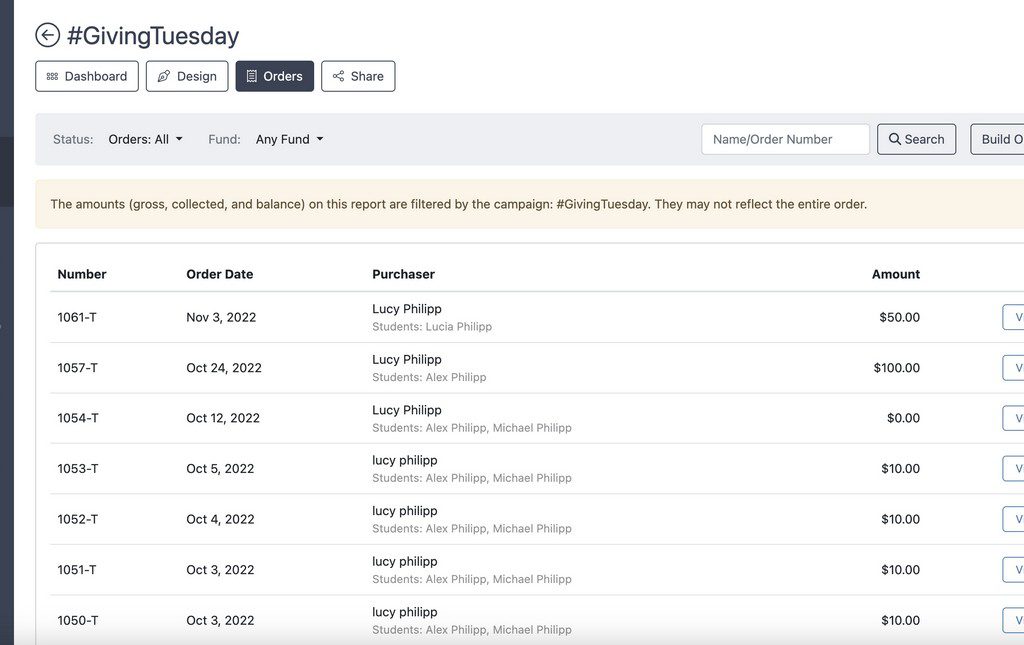 Or, to see how much money your fundraiser is making over time, click the "Dashboard" screen: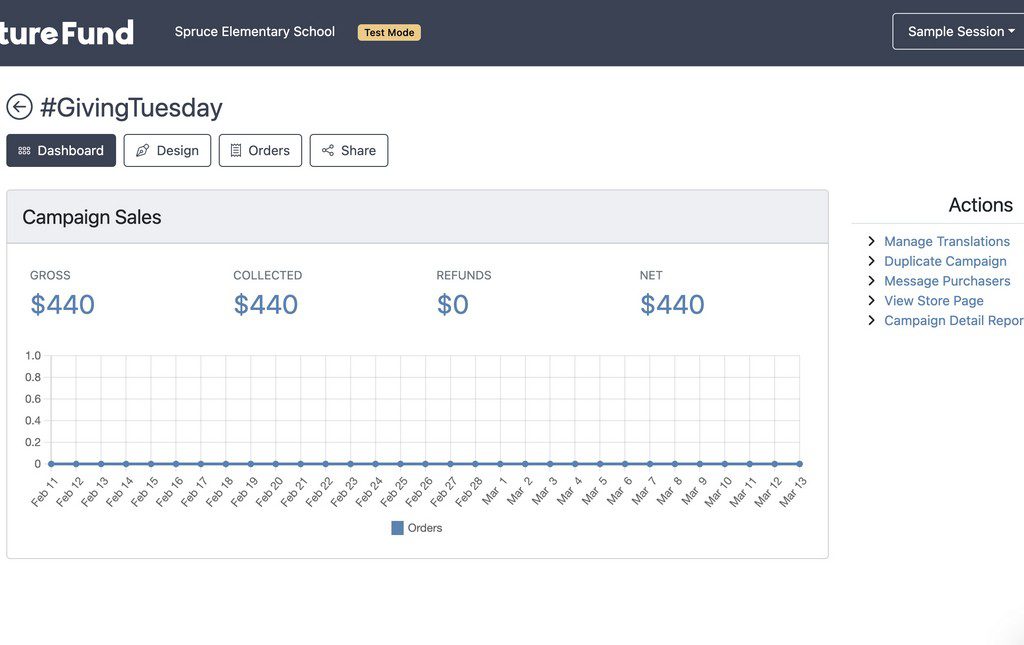 Reporting On Your Campaign's Success
Once your campaign is over, go back to the store tab and click the "Reports" tab. From here, you can select the specific type of report you need and generate it: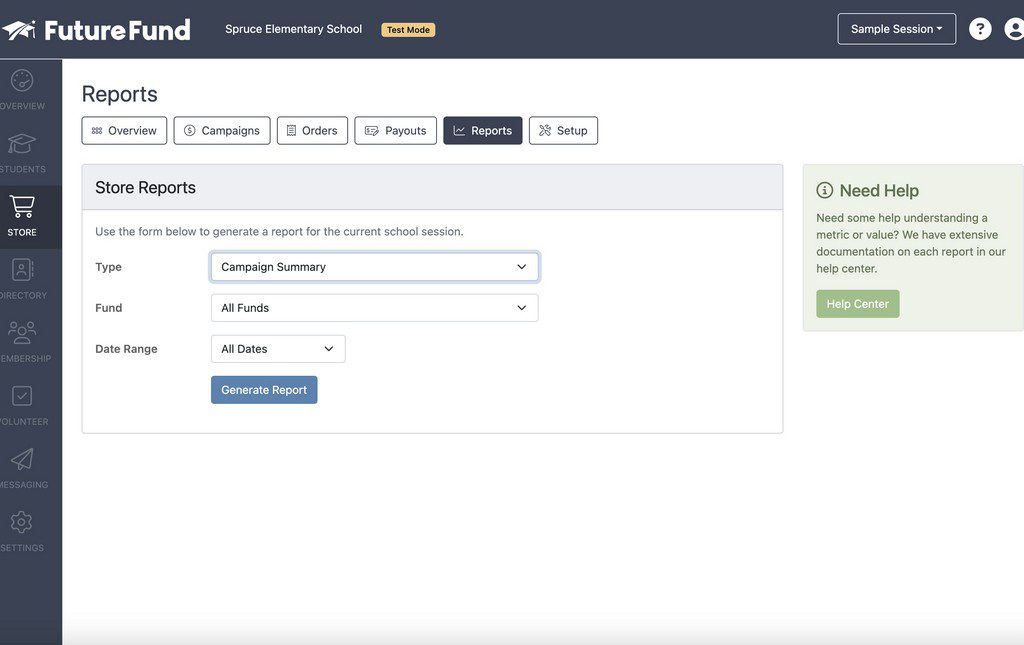 We'll select "Campaign Summary". These reports will be vital for helping your organization evaluate how successful your fundraiser was and ensure that your bookkeeping is always up to date and compliant.
Legal Considerations
There are numerous laws and regulations you'll need to consider when planning your campaign. In many cases, using the right tools (and avoiding the wrong ones) can help you navigate these more effectively. Here are a few of the most important:
Tax Exempt Status: PTAs and PTOs may be tax-exempt organizations, but they still need to comply with certain tax laws and regulations, such as reporting requirements and restrictions on political activities. Our online platform is designed to collect donations and generate reports much more efficiently than generic online payment software, making it easier to comply with these requirements.
Compliance with State and Local Laws: PTAs and PTOs need to comply with all applicable state and local laws, including charity registration requirements, consumer protection laws, and advertising and marketing restrictions.
Fundraising Restrictions: Depending on where you live, there may be limitations on the type of fundraising activities your PTA or PTO can engage in—such as selling certain products or conducting raffles or lotteries.
Contractual Obligations: Your PTA or PTO will need to be mindful of any contractual obligations you have in connection with your fundraising activities, such as agreements with vendors or sponsors.
Liability and Insurance: Your PTA or PTO will need to be aware of your potential legal liability in connection with your fundraising activities and secure adequate insurance coverage.
Data Privacy and Security: it's especially important for your organization to follow all applicable data privacy and security laws when collecting, storing, and using personal data for your fundraising activities. Future Fund's platform is designed to be compliant with North American privacy laws, helping you avoid the risks associated with other online payment platforms.
Being aware of the laws that apply to your PTA or PTO makes it easier to comply with them and avoid penalties while running your fundraising campaigns. If you have specific questions or concerns about the legal issues that might affect your fundraising campaign, we recommended consulting with a legal professional.
Fast-Tracking Your Fundraising with Future Fund
Clearly defining your fundraising goals and strategies is vital for running a successful campaign. Once you've done that, you can supercharge your efforts by using tools that streamline key tasks like collecting donations and generating reports—then use the same setup to keep achieving your goals in future campaigns!
We built Future Fund's platform to help you run faster, easier, and more effective campaigns, all while staying compliant with the laws and regulations that govern your organization. Learn more by booking a demo here, and find out if Future Fund is right for your PTA or PTO.