PTAs, PTOs, and volunteers across the country power their fundraising campaigns with FutureFund. 100% of all funds raised go directly to your school!

See how FutureFund works or book a demo to see how it can work for you.
Summary:
Selling spirit wear is an effective way to raise funds for your school, PTA, or PTO—since most students will want to show their school spirit and will be extra-motivated to buy when they know the proceeds are going towards initiatives that support their learning experience.
Spirit wear includes any wearable merchandise displaying your school's name, logo, or colors—like t-shirts, sweatshirts, sweatpants, hats, and more.
You can sell spirit wear in-person at school or community events, but using FutureFund to sell it online opens you up to more customers and requires fewer volunteers. FutureFund can also automatically track order fulfillment and generate reports to help you with your budgeting, making it easier to sell spirit wear for your school successfully.
Spirit wear lets your students showcase their school pride, and selling it can be a useful way to raise money for your PTA or PTO. But if you want to raise as much as possible, you should put a careful plan together for how to sell your school's spirit wear and use a few tools to make the process easy for buyers.
Creating a purchase product fundraiser campaign with FutureFund lets you sell your school's spirit wear online, so that members of your school community can buy it from anywhere at any time! We'll show you how to get started running this type of campaign below, and give you a list of tips for selling spirit wear in-person as well so that you can maximize your fundraising opportunities.
See Also: 20 School Spirit Merchandise Ideas
What is Spirit Wear & Why Is Selling It a Great Way to Fundraise?
Spirit wear includes any wearable merchandise that shows off your school's name, logo, or colors. Examples include:
T-shirts
Sweatshirts
Sweatpants
Athletic shorts
Hats
Scarves
Spirit wear is typically worn at sporting events, pep rallies, and other school events—although some students like to wear it on an everyday basis as well. This merchandise is particularly valuable for PTAs and PTOs to sell during fundraisers, since students often want to support their school teams or clubs and are happy to buy items that show their affiliation (especially when they know that money's going towards trips, educational materials, or other causes that enhance their learning experience).
Using a Two-Pronged Approach to Sell School Spirit Wear
Selling Spirit Wear at In-Person Events
In-person events hosted by your school and community are excellent opportunities to sell spirit wear—but you'll need to make sure you have the volunteer base and required materials to sell your products effectively. Consider the following:
Volunteers will have to organize the merch, set up and take down the booth during the event, keep track of all sales, and deliver the proceeds to your organization.
After the event, you'll need people to complete accurate reports on how much you raised so that you can factor it into your organization's budget and stay compliant.
When you're selling in-person, your sales will be limited to the number of people attending the event you've set up your booth at—so promoting it effectively is vital.
Selling Spirit Wear Online with FutureFund
We strongly recommend creating an online store to sell your spirit wear as a way of supplementing any selling you do at in-person events. Selling spirit wear online opens you up to more customers, allows them to make purchases 24/7 without requiring any volunteers from your organization, and can provide automatic tracking and report-generating tools (if you're using FutureFund to set up and run a purchase product campaign).
See Also: How to Run a Purchase Product Fundraising Campaign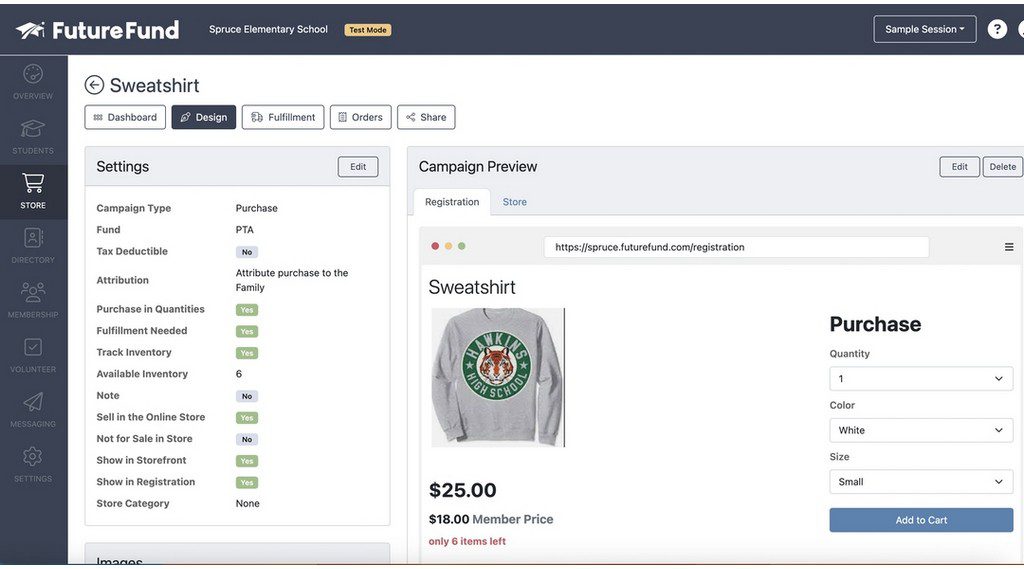 Above, you can see a purchase product campaign created on our platform to sell sweatshirts as spirit wear. If you look under "Settings" on the left-hand side of the screen, you can see FutureFund's options for making these sales tax deductible, tracking inventory automatically, attributing the purchase to different parties (individual students, families, etc.) and more.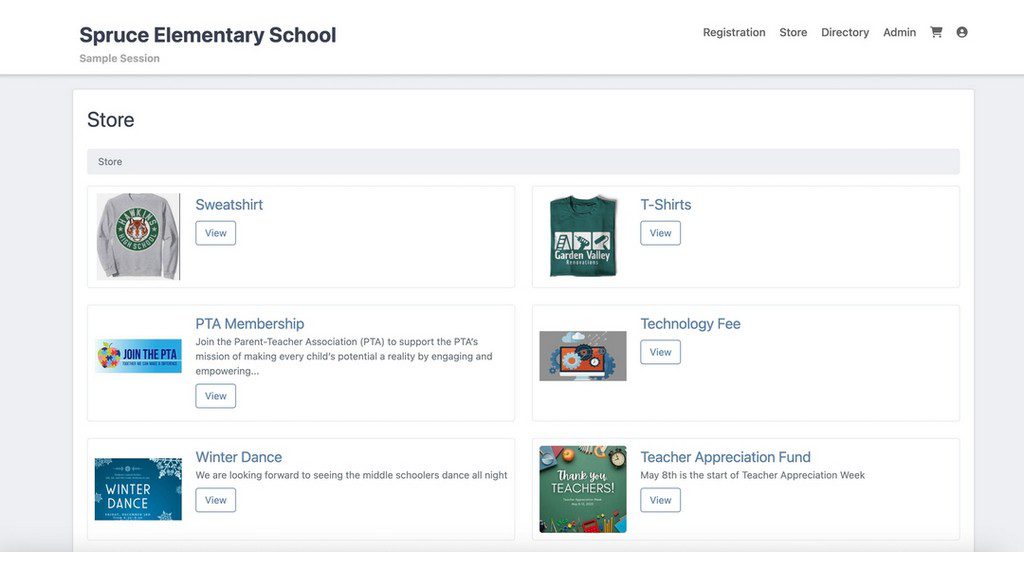 Here's how the store will look to visitors once you launch the campaign. This one has multiple campaigns running at the same time—you can see our campaign to sell sweatshirts as spirit wear in the upper left.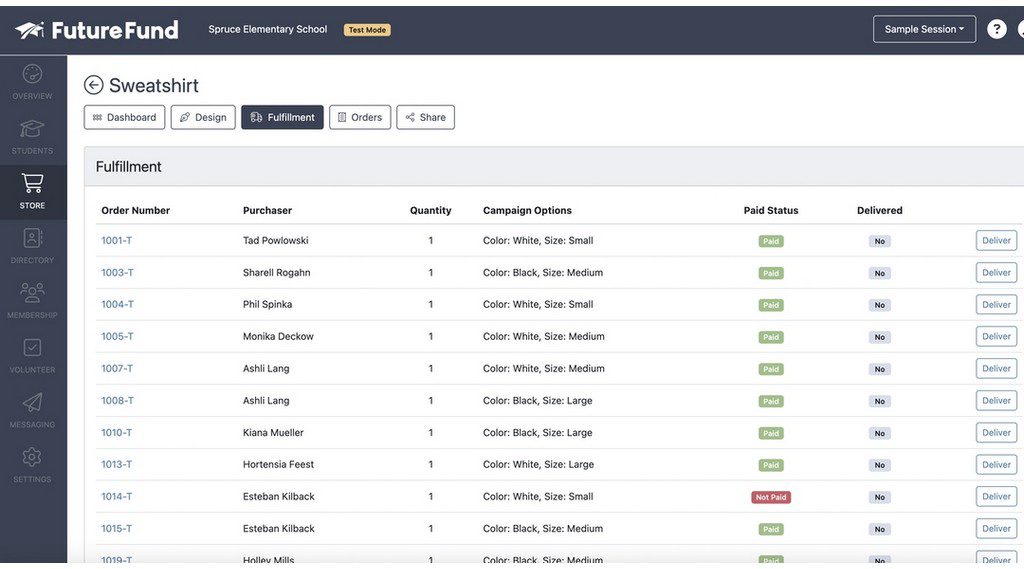 If you choose to track fulfillment through FutureFund (which we recommend), you'll also get automatic lists showing each purchase made during your campaign so far and whether or not their order has been fulfilled. This takes most of the legwork out of selling spirit wear, making it an easier and faster way to reach your fundraising goals than setting up booths in gymnasiums or in the school parking lot.
Power Your Spirit Wear Sales & More with FutureFund
FutureFund makes selling spirit wear easy, but you can also use it to sell tickets for events like fundraiser dinners and school dances—or just about anything else your PTA or PTO can think of! You can also use it for totally different activities that benefit your organization, like signing up new members or running pledge campaigns.
To learn more about using FutureFund for your organization, schedule a free demo with a member of our team who can walk you through it and explain the features in more detail. And regardless of the tools you use to sell your spirit wear, remember to keep things organized so your school can reap the maximum benefits and provide a better experience for students.