Summary of Key Points:
Unique and engaging end of year school parties can help you celebrate student achievements and foster a sense of community. They can also incentivize your students to finish the school year strong by studying for exams and completing their final assignments on time.
Many end of year school parties involve dynamic activities—examples include field days, talent shows, and themed costume parties.
You can also do something with a more low-key or educational focus. Try a movie night with snacks and comfortable seating, a school carnival with various entertainment booths, an arts and crafts party for creativity, or a science fair to demonstrate learning and discovery.
Some end of school year parties can also build character and important skills. Consider hosting a potluck picnic promoting cultural diversity, a community service project to teach the value of giving back, or a memory lane party to relive the highlights of the school year.
Putting together an end of year school party is a terrific way to show your students you're proud of the hard work they did throughout the semester. It can also motivate them to study for their exams and finish out the year strong in anticipation of the reward they'll get afterwards—as long as you plan a party they'll actually enjoy, that is!
That's where we come in. Here at FutureFund, we do more than just help PTA members save time on fundraising and other essential duties—we also provide inspirational and educational resources to help teachers! Below, you'll find 10 ideas to help you brainstorm the perfect end of school year party for your classroom.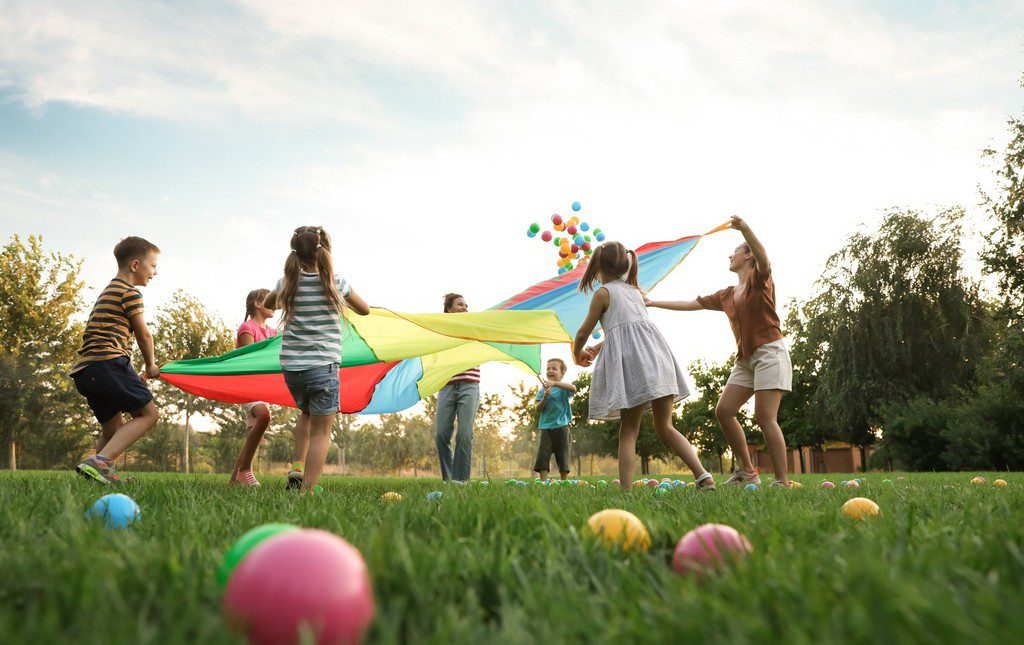 Via Adobe Stock.
#1: Field Day Extravaganza!
A field day extravaganza is all about outdoor fun. Organize a variety of games and activities such as sack races, egg and spoon races, or a fun-filled obstacle course.
You can also use this day to reinforce camaraderie among students by including team-building exercises. Friendly competitions, like relay races or tug-of-war, can foster sportsmanship and teamwork.
#2: Talent Show
Hosting a talent show gives students a chance to show off their unique skills and interests—whether it's singing, dancing, magic tricks, or playing a musical instrument, students get to shine on stage.
It's also a good idea to invite teachers and staff to join the fun. Their participation can add an extra layer of excitement and helps build strong relationships between students and school personnel. You might even be tempted to get up and share a special skill or talent yourself!
#3: Themed Costume Party
A themed costume party is a surefire hit. Just make sure to opt for a theme that resonates with the students—be it superheroes, characters from their favorite book, or a particular era (of course, it goes without saying to make sure everyone keeps things culturally appropriate—we suggest setting some guidelines around this for your class).
Once you've invited students to dress according to the theme, you can go one step further by arranging activities that complement it. This is a great way to make the entire party more fun and immersive.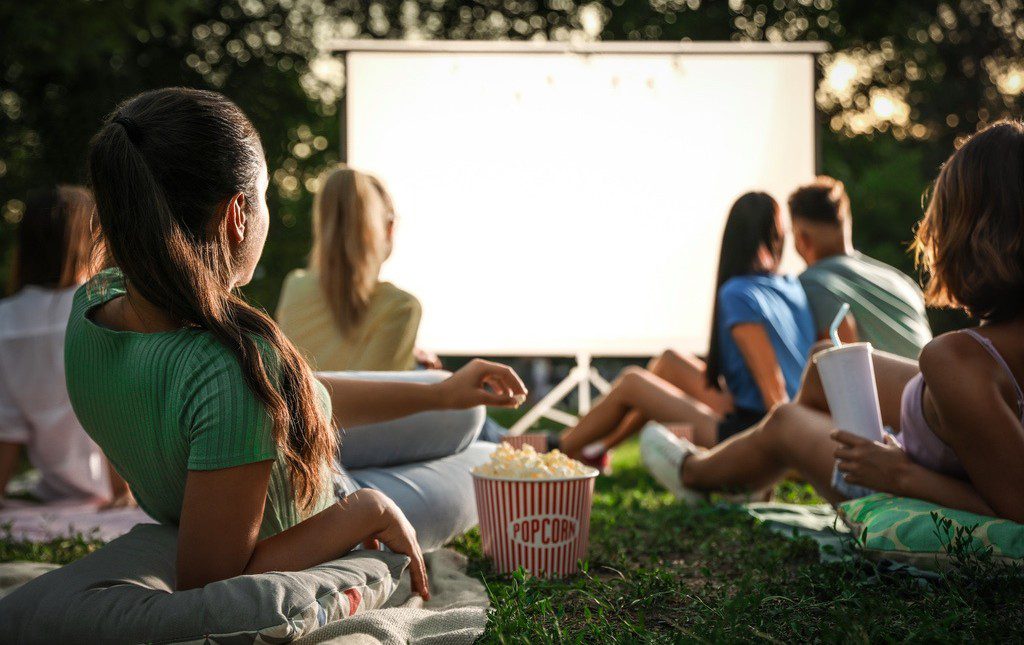 Via Adobe Stock.
#4: Movie Night
Host a movie night and screen a family-friendly film. An outdoor setting can make this even more memorable, weather permitting.
Don't forget the details here! Make the experience as close to going to the movies as possible by providing plenty of snacks (popcorn is a must) and comfortable seating options. If you're outdoors, it's a good idea to bring some extra blankets and lawn chairs for students who forget their own.
#5: School Carnival
A school carnival offers various entertainment options. Set up booths for games, activities, and even a photo booth for students to capture memories!
Extra ways to boost the festive atmosphere at an event like this include fun elements like face painting, balloon animals, and an array of delicious carnival snacks. Of course, the bigger your planned event is, the more it might cost—so be sure to explore some fundraising options for your classroom!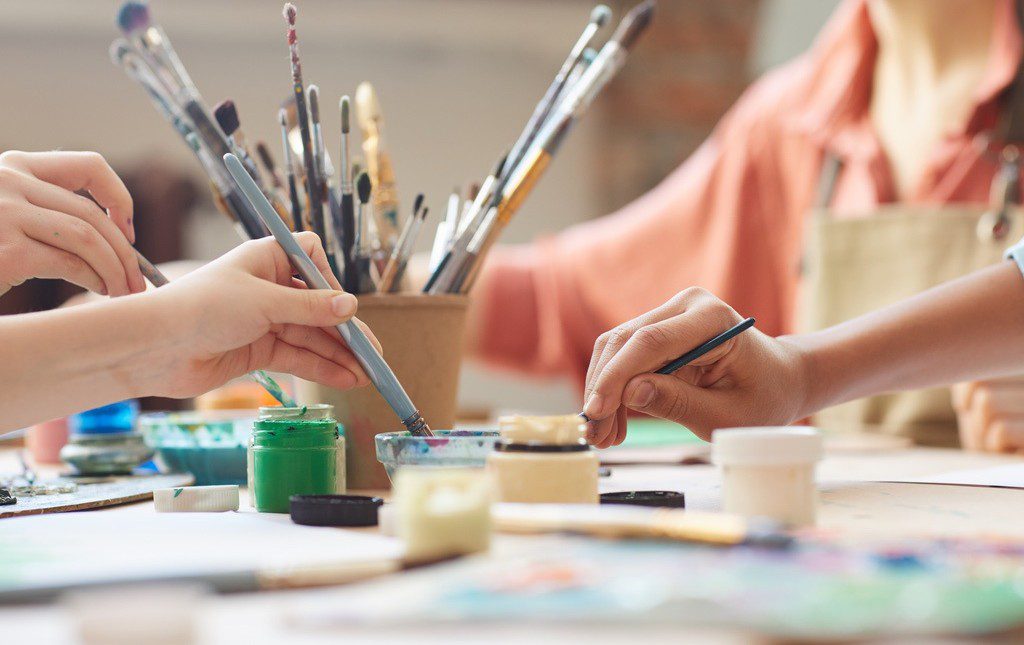 Via Adobe Stock.
#6: Arts & Crafts Party
Arts and crafts stimulate your students' imagination. Provide different arts and crafts stations where students can create their unique pieces. Don't just limit this to visual art, either! You could set up some musical instruments or a theater sports area as well, for example.
This idea is particularly great because it provides lasting memories. Students who make physical art can take it home afterwards, leaving for the summer with a beautiful memento of the school year.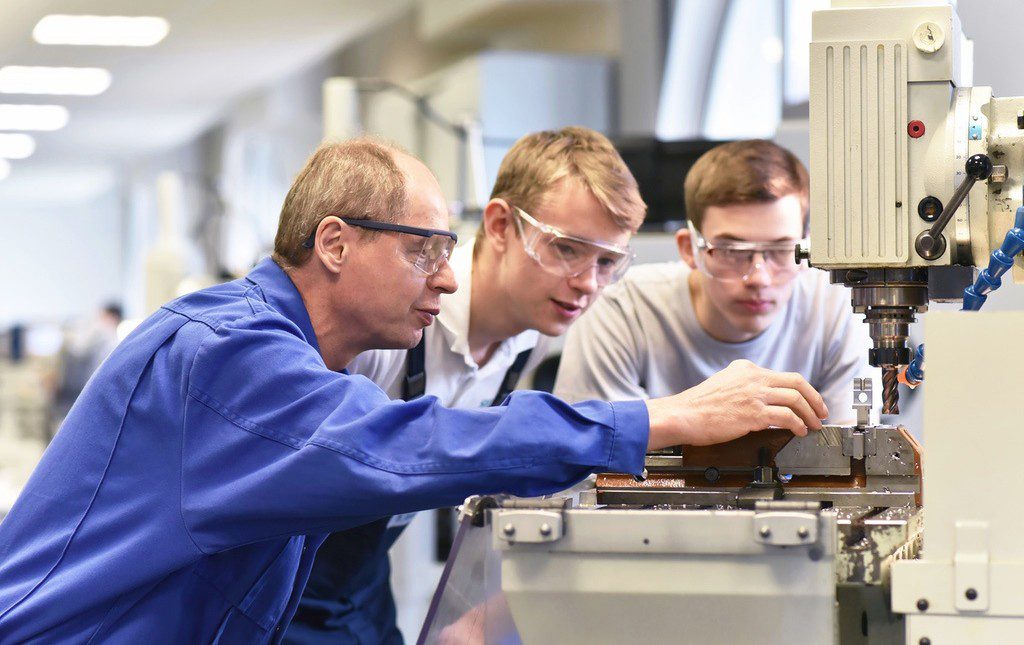 Via Adobe Stock.
#7: Science Fair
A science fair allows students to showcase their love of learning. It also gives them a chance to present their favorite experiments and findings to their peers and families, giving them a confidence boost.
You can make this experience fun for the entire classroom by encouraging interactive demonstrations and hands-on activities. This will make the various scientific concepts your students cover more tangible and exciting.
#8: Potluck Picnic
A potluck picnic fosters a sense of community. Invite students and their families to bring in their favorite dishes to share, celebrating the diversity of your classroom.
Support your potluck by arranging inclusive games and activities. This will ensure a fun-filled day for your students and their families while promoting knowledge of the different cultures that make up your student body.
#9: Community Service Project
Engage students in a group service project that benefits the local community. It's a meaningful way to celebrate the end of the school year, and it teaches valuable lessons about giving back.
Guide students through the project, helping them understand the positive impact of their actions on the community. You can also incentivize students to participate by rewarding them with something fun afterwards (pizza and ice cream tend to go over well).
#10: Memory Lane Party
A memory lane party allows everyone to reflect on the school year's highlights. Create a slideshow or video showcasing memorable moments and achievements.
Make this event more interactive by encouraging students to participate. This helps them develop multimedia and technology skills while giving them an opportunity to share their favorite memories and experiences from the year, and fosters a sense of camaraderie and nostalgia.
Make Your End of Year School Party a Smashing Success
The ideas above are all excellent ways to create lasting memories and incentivize your students to finish the year strong—but they're just a starting point! Find your party idea above or use our list as inspiration to brainstorm an idea of your own. And if you're looking for help raising money for your party, try a demo of FutureFund—we've got tools that can help you and your PTA raise more money in less time to improve the educational experience you provide for your students.