Summary of Key Points:
Field trips are enriching but also expensive, so teachers and PTA members frequently need to fundraise to cover associated costs like transportation, admission fees, supplies, and more.
FutureFund offers several ready-made fundraising campaign templates you can use to raise money for school trips—including website donation campaigns, purchase product campaigns, "A Thon" style pledge campaigns, and membership drives (which don't raise money directly but do give you more people power for your fundraising efforts).
To make the most of using FutureFund to raise money for field trips, be sure to give your campaign a clear name and description, upload engaging images, and track your campaign's performance so you can adjust it as needed. You can also use FutureFund to collect permission slips and other important documents from students who will be going on the trip.
Field trips provide memorable educational experiences for students, but they can also be expensive. Teachers and PTA members must often fundraise to cover the costs of these trips, so learning how to raise money effectively is critical.
Proper fundraising can help you cover costs like transportation, admission fees, and supplies, providing your students with enriching and diverse learning opportunities beyond the classroom. Below, the FutureFund team walks you through the steps involved in fundraising for a school trip using our platform.
Choosing the Right Type of Fundraiser
FutureFund comes with a number of ready-made campaign types you can launch in just a few easy steps. We've listed detailed how-to guides for some of the most popular ones below—click the link on each point to see the steps involved.
Using FutureFund to Raise the Most Money For Your Field Trip
Choosing your campaign type (or types) and following the steps to create them is just the tip of the iceberg. If you want to raise money for your field trip effectively, you should also make sure your campaign has effective descriptions, calls to action, and other information that inspires potential donors to contribute.
Here's a list of best practices for raising the money your upcoming field trip needs: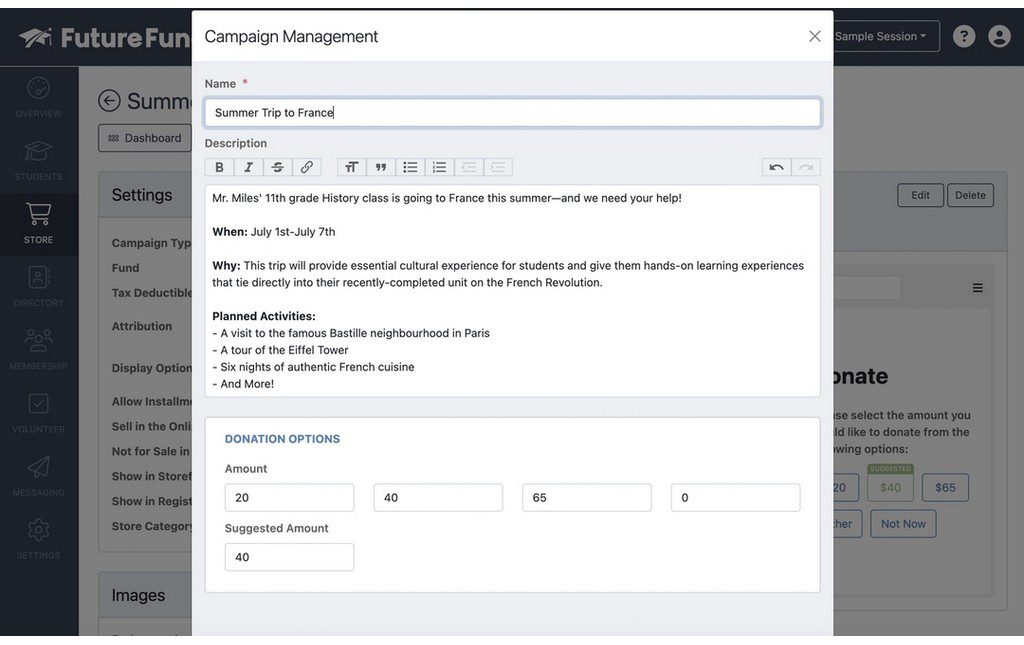 Give Your Campaign a Clear Name & Description
When it comes to naming your campaign, simple and straightforward is the best way to go. Tell potential donors what their money will be going towards—i.e., "Summer Trip to France" or "11th Grade Field Trip to France".
Save the details for the Description window. This is where you want to answer key questions like:
When your trip will take place.
Why the trip will be important for your students.
What you plan on doing during the trip (and why you need money to do it)
Setting Donation Options
Giving people a few different donation options is important—because it sets expectations for what a useful or reasonable amount to contribute might be but also provides enough flexibility so that donors with smaller budgets won't feel alienated.
Be particularly mindful of choosing a minimum amount that you'll still find helpful, since the majority of donations your campaign receives will most likely come from the lower end of the spectrum (for example, we don't recommend setting your smallest donation option at $1 since it's pretty hard to nickel and dime your way to Paris).
We also recommend leaving at least one of the fields in this section blank so that donors can select their own donation amounts. This allows people to make small donations if that's all they can afford, but doesn't encourage it at the expense of more significant contributions.
Give Your Campaign Compelling Images
FutureFund's Design screen gives you room to upload two images: a product image and a header image. Here are some tips for each:
For product images: make sure your image is 200×200 pixels. This small image will display on your campaign page and should give visitors an idea of what students will get from the trip (if you're going to France, a picture of the Eiffel Tower might work).
For header images: make sure your image is 800×400 pixels. This will be a banner-style image that displays at the top of the campaign page—so we recommend something dynamic that conveys key info right away (try a photo of your class smiling in front of a sign that says "We're Going to Paris!").
Upload Attachments
You can also upload attachments like supplemental forms and informational documents to your campaign—examples for a field trip might include detailed calendars and itineraries, or sightseeing brochures for specific locations you plan to visit. Use the Attach field below the area where you upload your images.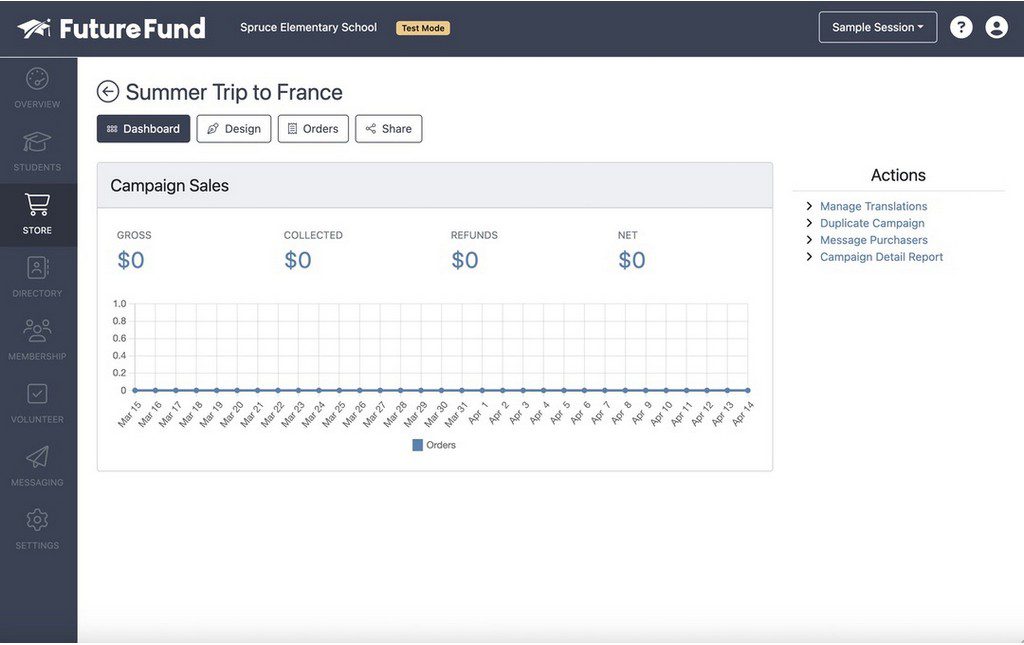 Track Your Campaign's Progress
As your campaign collects donations, you can view the money you've raised through the Campaign Sales screen. You can find this by clicking the Store tab, the Campaigns tab, clicking the View button next to your campaign, and viewing the information on the dashboard that pops up.
Tip: Provide updates throughout your campaign to let students and their families know how close you are to reaching your field trip's fundraising goals. Often, people who have already contributed money will donate again if they see that you're nearing success—since at this point they're already invested in helping you make the field trip happen.
Fund Field Trips More Easily with FutureFund
Using FutureFund makes it easier to raise money for upcoming school trips by giving donors an easy way to contribute funds through your school's online store. Making sure your donation page has clear information and eye-catching images will make them more likely to donate, and tracking your campaign's performance lets you know what's working and what's not so you can make improvements along the way. Learn more about raising money with with Future Fund here and set your students up for success.