Summary:
Helping a new Treasurer transition into your shoes before you leave is one of your outgoing duties and helps ensure that your PTA will remain compliant once you're gone. You'll need to provide organized records, train them effectively, and ensure that they have access to the information they need.
To prepare for your new Treasurer to step into the role, provide all required documents for them, collect essential physical supplies, and create an account for them using FutureFund.
Training your successor involves identifying their key duties, providing advice on best practices, and orienting them with your Treasurer software. Make sure they can use FutureFund to track funds raised, generate reports, and communicate with other volunteers.
Post-transition support is vital for ensuring your new Treasurer remains successful in their role. Check in with them at regular intervals and make sure to provide them with resources they can use to keep growing.
Smooth transitions between outgoing and incoming PTA treasurers are essential for effective financial management—and FutureFund aims to help you make this process as straightforward as possible. This guide offers a step-by-step walkthrough you can use to help your organization's new treasurer fill your shoes effectively once you leave the role.
This Kit Includes
Common Transition Challenges for PTA Treasurers
What to Prepare for Your PTA's Next Treasurer
Training Your Successor
Post-Transition Support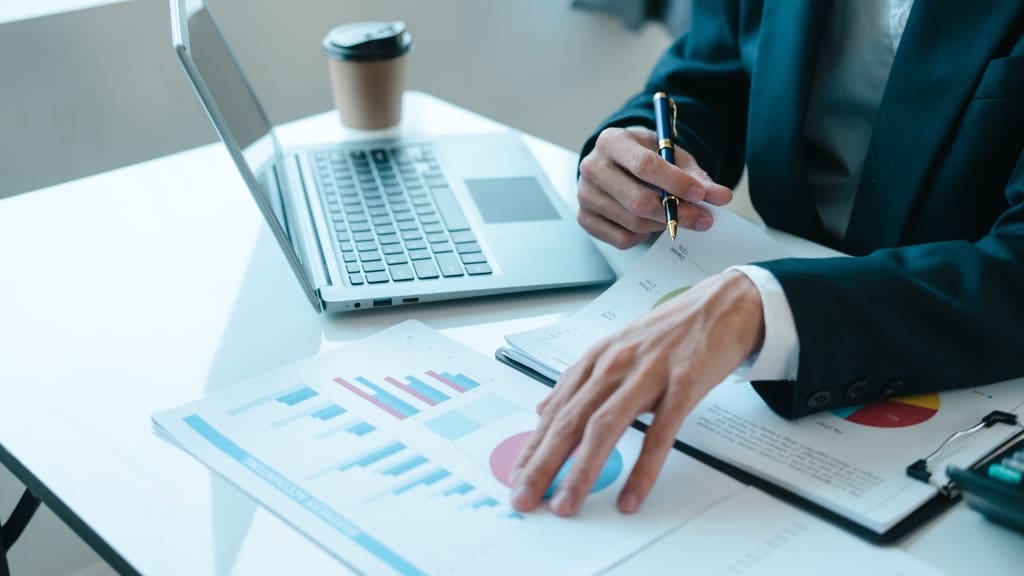 Common Transition Challenges for PTA Treasurers
The main issues encountered when handing off PTA Treasurer duties usually stem from:
Disorganized Records: Incomplete or missing financial data can cause havoc.
Limited Training: New treasurers may not know what they don't know.
Access Control: Switching account permissions can be a security risk if not done correctly.
FutureFund makes record keeping and permissions easy—we'll show you how below. As for training, the rest of this guide provides an excellent overview of what you'll need to cover, so keep reading!
How FutureFund Streamlines the Process
Here's how each FutureFund feature specifically aids new PTA Treasurers in their transition:
Free Online Store Setup: Save time with automated tracking of merchandise sales.
Payment Processing: Funds go directly into your PTA account, reducing errors.
Book & Record Keeping: You and the new Treasurer can easily track and review historical data.
Campaign Performance Insights: Make data-driven decisions about future fundraising.
Secure Data Protection: Advanced cybersecurity features ensure that your financial data remains confidential.
Volunteer Messaging Tools: Streamline communication with volunteers during and after the transition.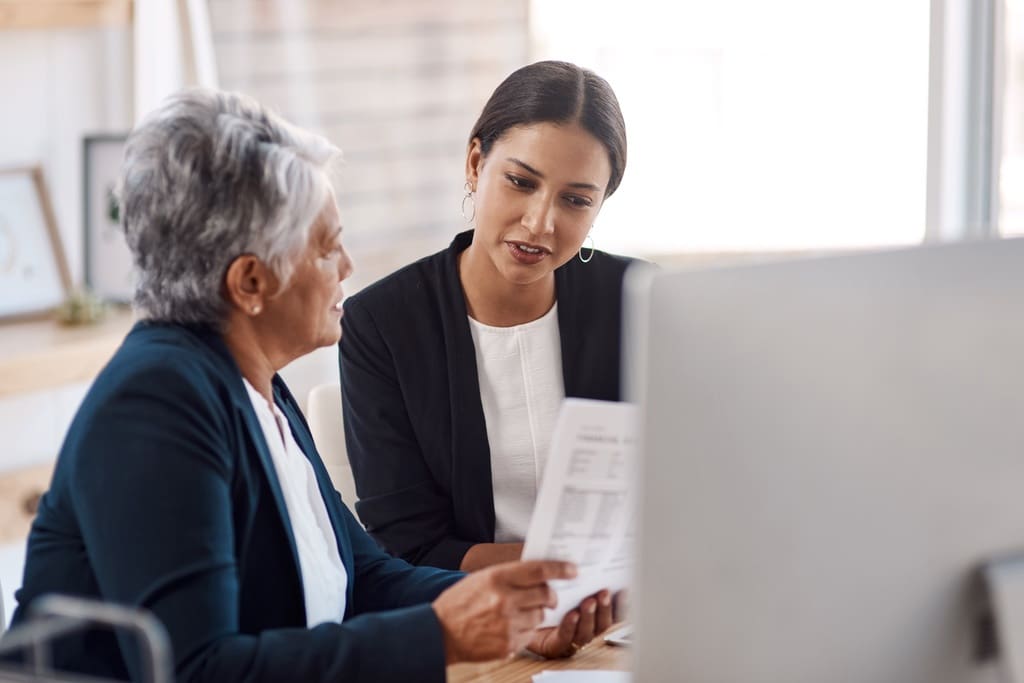 What to Prepare For Your PTA's Next Treasurer
Use the following checklists to make sure you've set up everything your next Treasurer needs to succeed.
Required Documents & Files
Prepare the following docs for the new Treasurer before they arrive:
Bank Statements: Download monthly bank statements for the past year.
Expense Receipts: Gather all physical and digital copies.
Meeting Minutes: Pull minutes where financial decisions were discussed.
Tax Forms: The 990, 990N, or 990EZ forms that your organization must file on the 15th day of the 5th month after the end of your fiscal year.
Financial IDs: Your PTA's Tax ID or EIN number.
Board Contact Info: A list of phone numbers and emails for board members.
Helpful Supplies
Gather the following supplies for your incoming Treasurer:
Assorted pens, featuring at least one in red.
A standard ruler for aligning physical documents.
A three-hole punch for binder organization.
Paper clips for keeping documents neatly together.
Various sizes of envelopes for correspondence via snail mail.
Rubber bands for bundling items together.
Sticky notes for reminders or annotations.
An adequate supply of postage stamps.
A bank-specific stamp for check processing.
Information on where records from previous years are stored.
A binder detailing daily operational procedures.
A binder containing all crucial documents and forms.
Check request forms for outgoing payments.
Request for funds forms for internal allocation.
Extra postage stamps for unscheduled mailing.
A physical checkbook for writing checks.
A deposit book for logging funds received.
A receipt book for tracking cash expenditures.
A cash count worksheet for reconciling cash on hand.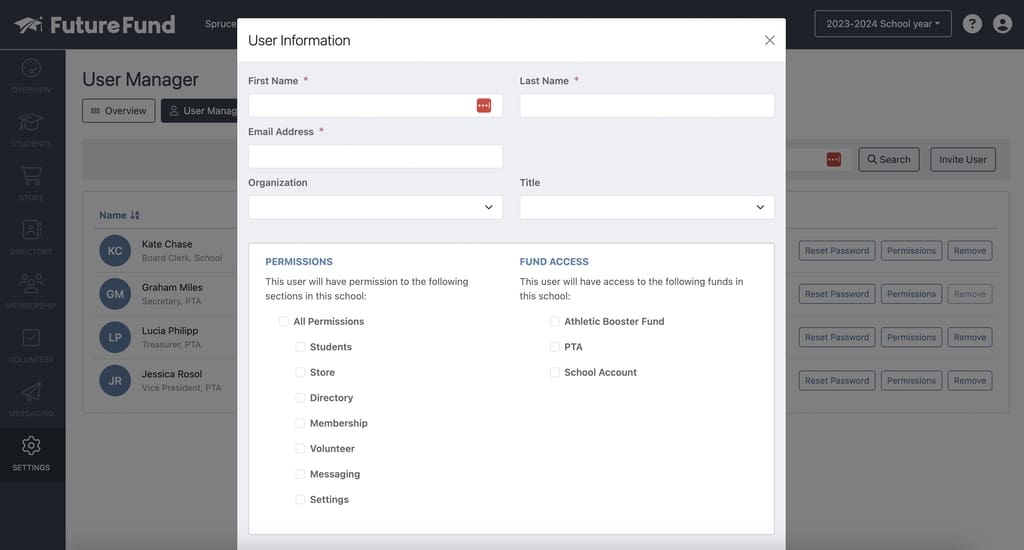 Your PTA's Treasurer Software
Set up FutureFund for your new Treasurer with the following steps:
Login to FutureFund: Access the dashboard and go to "Settings" on the left-hand menu.
Create a New Admin: Click "Invite User" at the top right corner of the screen, then enter their first name, last name, and email address.
Enter the New Treasurer's Details: Choose your organization from the drop-down menu, and select "Treasurer" from the list of titles. Then choose what sections of FutureFund and what specific funds the new treasurer can access in the "Permissions" and "Fund Access" columns.
Training Your Successor
Setting up the documents, supplies, and software your new Treasurer needs is only the first part of helping them adjust to their new role. Use the following info to familiarize them with what to do and the best ways to do it.
Key Duties for the Incoming Treasurer
Bank Reconciliation: Matching the PTA's financial records with the bank statements to ensure all transactions are accounted for and accurate.
Budgeting: Estimating income and expenditures for the upcoming term to guide financial decisions.
Fundraising: Generating revenue by tracking and managing fundraising campaigns.
Financial Reporting: Compiling and presenting financial reports for PTA meetings to keep the board and members informed about the organization's financial health.
Taxes and Year-End Procedures: preparing tax forms, reviewing year-end financial statements, and ensuring compliance with federal and state regulations for nonprofit organizations.
See Also: 10 Essential PTA Treasurer Duties (& How to Save Time On Them)
Best Practices For Your Next Treasurer
Make sure they understand all of your PTA's bylaws and guidelines. This will improve their compliance and allow them to make decisions with confidence.
Provide access to additional training and resources. Showing your new treasurer where to go to improve their skills and knowledge will keep them growing in the position.
Be proactive about budgeting. Encourage them to start early and check to make sure their projections align with reality at regular intervals.
Make your financial reporting as efficient as possible. Using FutureFund to track revenue, generate financial reports, and provide automatic donation receipts can all save your new Treasurer a great deal of time.
Collaborate with your fundraising committee. The better your new Treasurer is at communicating with the people responsible for your fundraising, the less likely any important information will fall through the cracks and lead to bookkeeping headaches.
See Also: 10 Things Every New PTA Treasurer Should Know
Treasurer Software Orientation
Make sure to walk your PTA's new Treasurer through the following areas of FutureFund so that they understand how to make the best use of our platform in their new role. FutureFund has a huge variety of features, but here are the ones PTA Treasurers need most often: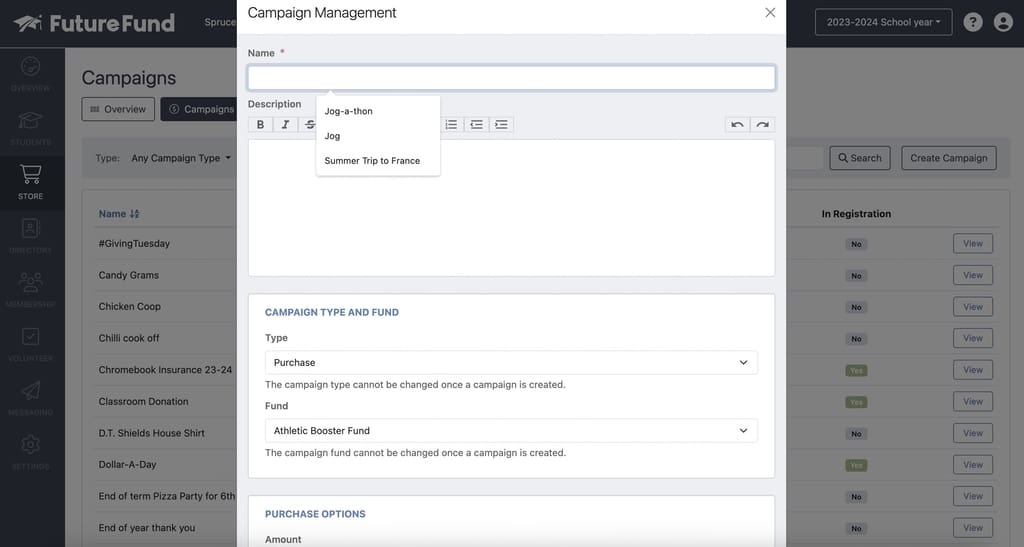 Fundraising Campaigns
Go to Store > Campaigns > Create Campaign.
Choose the name, description, campaign type, fund, and purchase options for the campaign in the window that appears.
Click View > Design to change your campaign's details, upload images and attachments, and preview it or make it live on your organization's online store.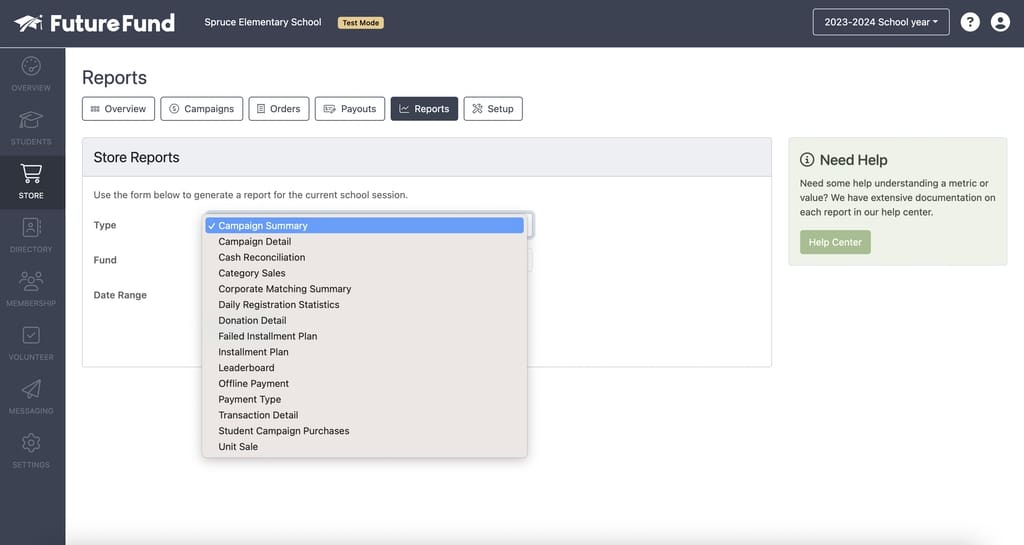 Financial Reporting
Go to Store > Reports.
Choose the type of report you want from the drop-down menu and click Generate Report.
You can generate reports for specific campaigns, cash reconciliations, corporate matching summaries, and a wide range of other transaction types.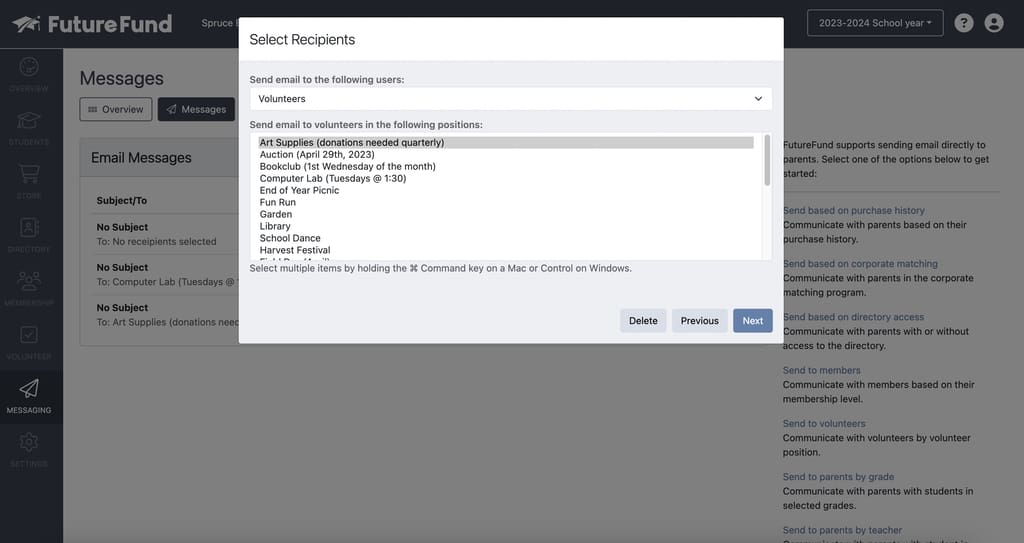 Volunteer Messaging
Go to Messaging.
Click Messages to select current templates and recipients.
Click Setup to customize your sender profiles and more.
Learn more about using FutureFund as a PTA Treasurer—book a free demo here!
Post-Transition Support
Here are some steps and tips to ensure that your incoming treasurer can continue to thrive in the role once you've moved on:
Schedule Regular Check-Ins: set a timeframe to check on your successor, use a shared calendar to set reminders for these meetings, and prepare an agenda to address opportunities for growth.
Be On-Call for Urgent Queries: provide your contact details and specify your availability in case the new treasurer needs to reach you. Make sure to be specific about what constitutes an emergency so that boundaries are respected, but reply as quickly as possible to build confidence.
Share Any Updates or Changes: Try to stay informed about changes in PTA policies, tax laws, or FutureFund updates that might affect the new treasurer's duties and pass this information along when you meet.
Facilitate Peer Networking: Introduce the new treasurer to the contacts they'll need to do their job effectively, and share any newsletters or other resources that have been helpful to you.
Review and Provide Feedback: Every once in a while, review the financial records or processes if the new treasurer is open to it. Offer advice on improving efficiency, but also praise what's being done well.
By taking these steps, you not only ensure a smoother handover but also set the stage for the new treasurer's long-term success. Use what you've learned above to ensure that you can leave your role gracefully and welcome your PTA's next Treasurer with total confidence in their abilities.