The back-to-school season is filled with fresh energy, hope, and a sense of community. As students return to the classroom, it's a golden opportunity for schools and PTAs to build momentum for the academic year ahead. Fundraising during this season not only supports school activities but also serves as a catalyst for parent and community engagement.
FutureFund provides all the tools your PTA needs to streamline and accelerate your fundraising process. These include:
Ready-to-go fundraising campaigns you can launch in just a few minutes.
Powerful eCommerce features that let you sell merch, event tickets, and memberships through a secure online store for your school.
Shareable links and messaging tools to promote your fundraisers via social media and email.
So here are 10 exciting back-to-school fundraiser ideas from our team. Use these to help your PTA kickstart a successful year!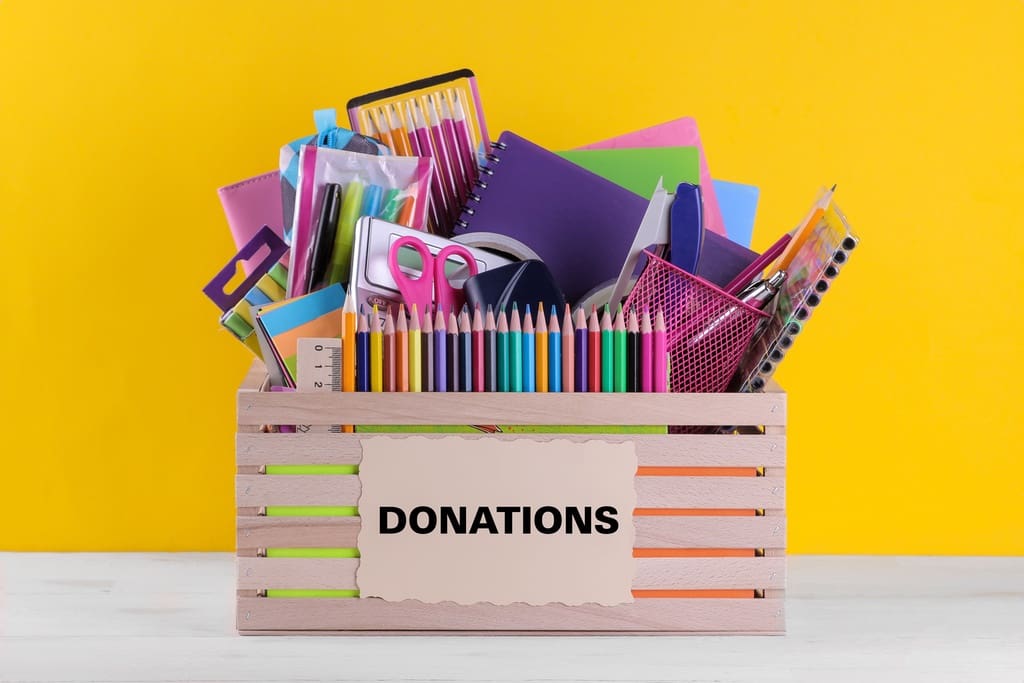 1. Back-to-School Supply Drive
Invite parents to donate essential school supplies that can be bundled into kits for students in need. Then, create a campaign in FutureFund to sell these kits online and make them available for purchase 24/7.
Best Practices
Use FutureFund's messaging tools to share a list of required supplies with parent volunteers and ask for contributions.
Set up donation drop-off points at the school entrance or local businesses.
Offer an option for monetary donations as well (FutureFund lets you set up donation campaigns as well as product purchase campaigns, so that people who don't need to buy supplies can still support the campaign).
2. Welcome Back Carnival
Host a family-friendly carnival with game booths, food stands, and prizes. Use FutureFund to sell tickets to the event, and to keep track of waivers or permission slips by uploading them to the campaign.
Best Practices
Involve students in creating and managing booths to maximize participation and help them start the year with a sense of pride.
Use FutureFund to create a campaign that lets you sell tickets to the event in advance.
Reach out to local businesses for sponsorship opportunities—they can provide prizes for carnival games, or items you can sell during the event and in your school's online store.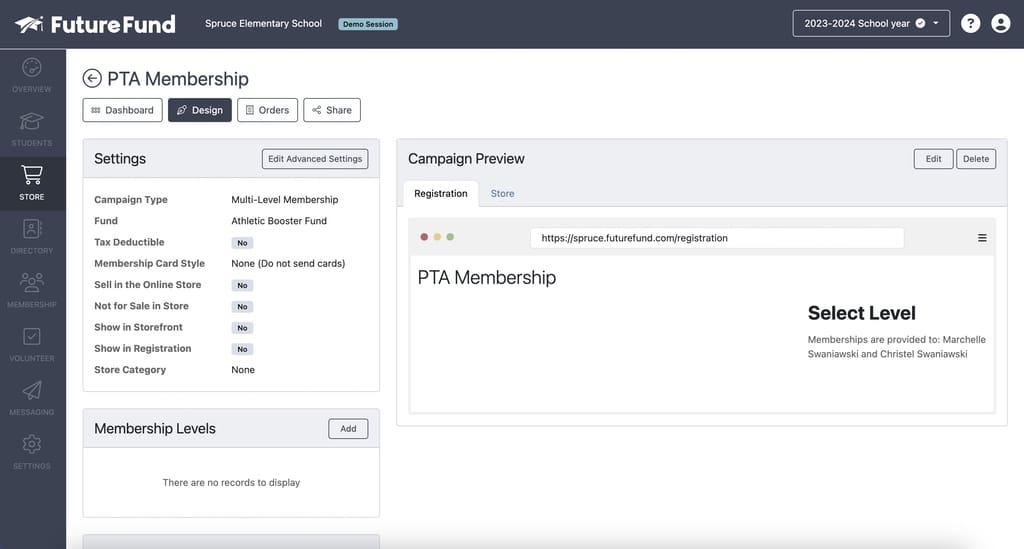 3. PTA Membership Drive
Encourage parents to join the PTA during the first month of school. Signing up new members and keeping track of dues is easy when you use FutureFund's membership management tools.
Best Practices
Use FutureFund to offer member discounts and perks that incentivize new sign-ups.
Automatically register new members and organize their contact information in FutureFund's secure database.
Send out reminders through FutureFund's built-in messaging system to keep sign-ups going until the drive closes.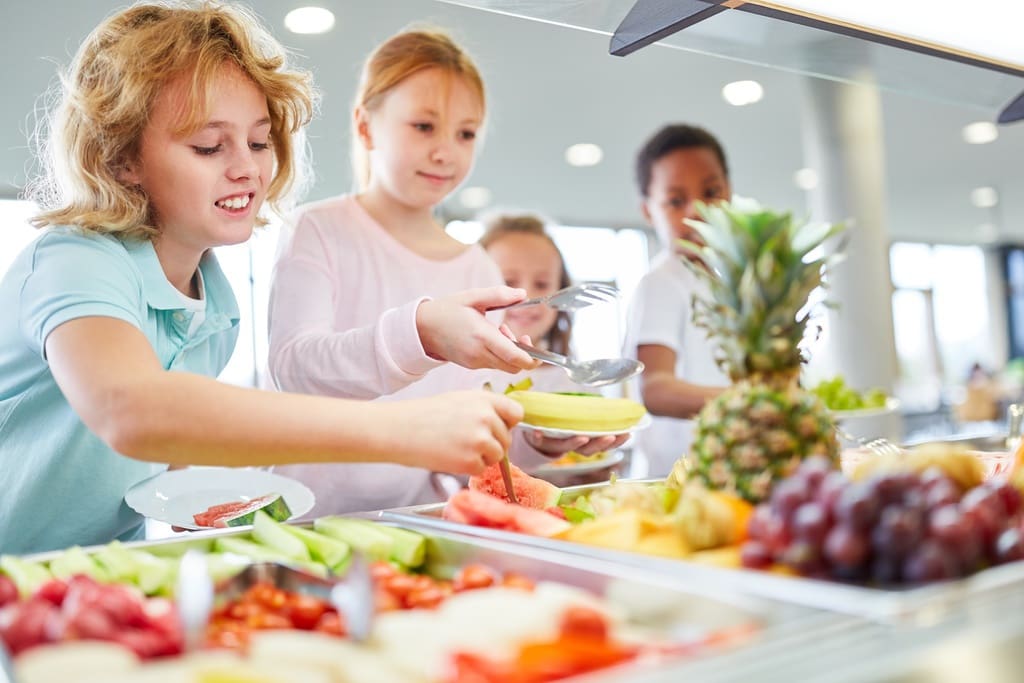 4. First Day of School Breakfast
Organize a special breakfast for parents and students on the first day of school! This is a great way to bring the school community together and make sure everyone starts off the year on a good note. It's also an opportunity to sell school merchandise and tickets for future planned events!
Best Practices
Offer a variety of foods, keeping in mind dietary restrictions.
Use the opportunity to introduce any new PTA members and outline the year's goals.
Charge a small entry fee and set up an online store with FutureFund to sell tickets ahead of time.
5. Fall Fashion Show
Students love showing off their back to school outfits, so why not turn it into a fundraising opportunity? Create an event and sell tickets with FutureFund—you can also use our platform to sell school merch ahead of time and hold a contest to see who works it into their outfit in the most creative way!
Best Practices
Invite local retailers to sponsor or participate.
Include a mix of student and parent models.
Sell tickets and make school merchandise available via FutureFund in the weeks leading up to the event.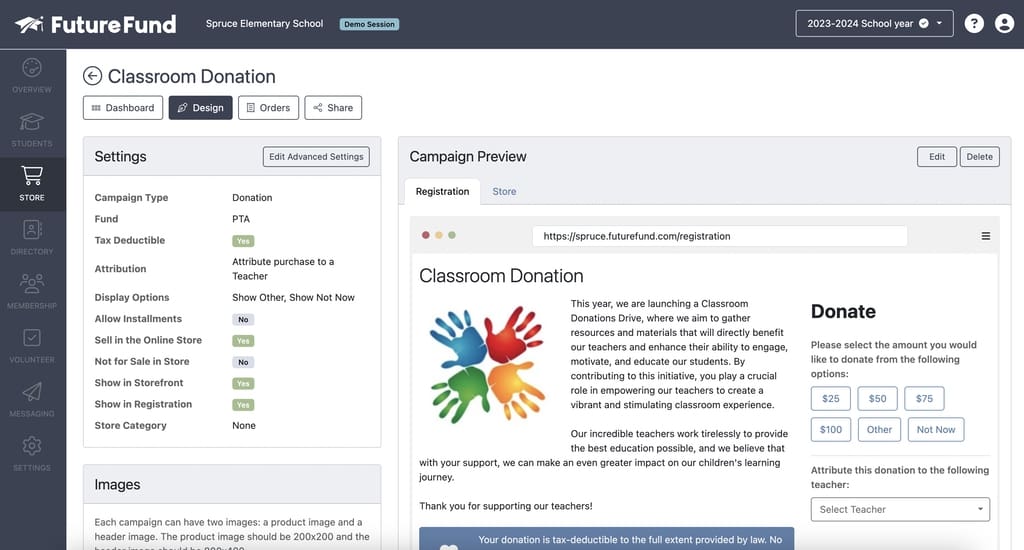 6. Teacher Supply Wish List
Making sure classrooms are prepared for the fall semester is a big job, so why not encourage the school community to pitch in? Teachers list classroom supplies they need, and parents can donate specific items. Alternatively, you can run a classroom donation campaign with FutureFund to collect money for school supplies before the start of the year.
Best Practices
Make the list of required items easily accessible online (you can do this with FutureFund by uploading the list to your donation campaign or using our messaging tools to send it out to parents by email).
Include supplies at a range of different price points so that the whole school community can participate. If you're collecting monetary donations via FutureFund, customize your campaign to accept different suggested donation amounts.
Acknowledge contributions in a special school bulletin—you can use FutureFund's messaging system to send this out to specific parent groups, or the whole community at once.
7. Locker Decoration Contest
Students pay a small fee to participate in a locker decoration contest. This encourages students to keep their lockers clean and tidy at the start of the year, and to come together to exercise their creativity!
Best Practices
Create a FutureFund campaign to sell tickets for the event, and include a space on the campaign page to upload photos of the winning lockers.
Offer small prizes like gift cards or school merchandise.
Ensure there are guidelines for appropriate decorations.
8. Classroom Sponsorship Program
Parents and local businesses sponsor a classroom and are acknowledged with a plaque or certificate.
Best Practices:
Offer varying sponsorship levels—you can use FutureFund's campaign management tools to include these as suggested donation amounts.
Use funds raised specifically for classroom enhancements.
Use our messaging tools to keep your sponsors updated on how their contributions are making an impact.
9. Walk-a-Thon
Organize a Walk-A-Thon where students gather pledges for each lap they complete. This will get them outdoors to enjoy the gorgeous fall weather and promote fitness before winter hits.
Best Practices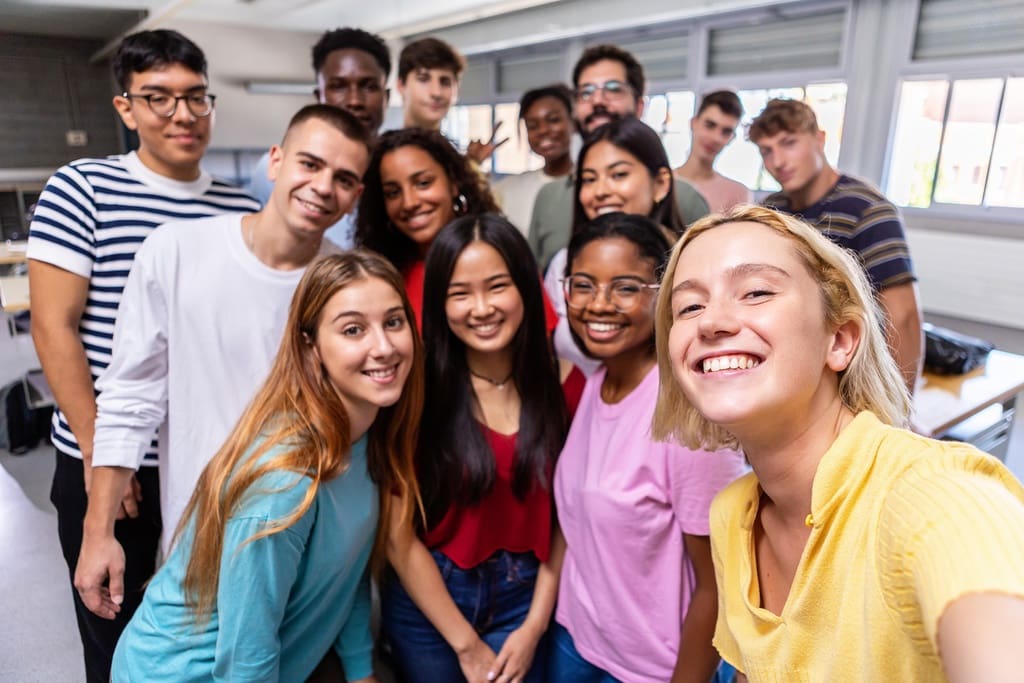 10. Alumni Engagement Event
Invite alumni to an event at the school, charging a small fee for entrance.
Best Practices:
Sell tickets to the event by creating a campaign on FutureFund
Use our messaging tools to create a custom audience of school alumni and reach out to promote the event to them directly.
Use the event to launch an alumni donation drive and set up contributions through FutureFund.
By incorporating these exciting back-to-school fundraisers, you'll not only generate valuable resources for your school but also foster a sense of community and shared purpose. After all, a well-supported school is a thriving school.
Get started with FutureFund now to learn more about how our platform can help you usher in another year of academic achievement and community building—and find answers to the most popular questions we get below!
Frequently Asked Questions about Back to School Fundraising
How do I choose the right fundraiser for my school?
You'll want to choose your fundraiser based on the interests of your school community and the amount of money you need to raise. Our team has lots of experience helping school groups raise money, so check out our full library of effective fundraising ideas here.
Can I run multiple fundraisers on FutureFund at once?
Yes! We make it easy to run and manage numerous fundraising campaigns at the same time. Go to the "Campaigns" screen to see a list of all fundraisers and filter them according to different criteria—this makes it even easier to diversify your fundraising sources and meet your goals.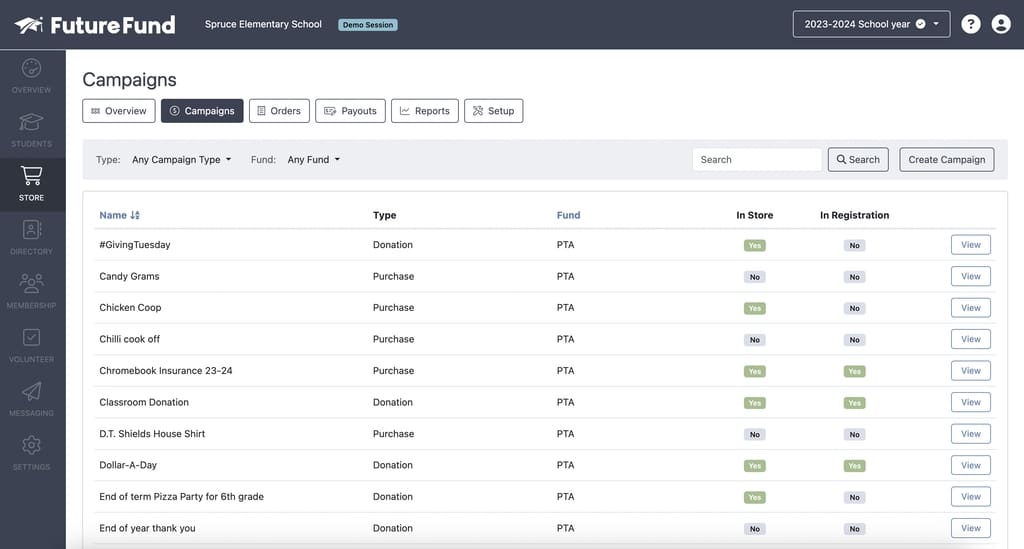 How can I use FutureFund to raise awareness about back to school fundraisers?
Here are two easy and effective ways to promote your campaigns with FutureFund:
Use our built-in messaging system to create different audiences and customize email templates for targeted outreach. This is a great way to announce your fundraising campaigns and share important updates.
Get shareable links for each campaign by clicking the View button next to your campaign, then clicking the Share tab. You'll get a link you can copy and paste into emails, social media posts, and elsewhere to take people directly to the campaign page.